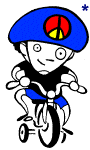 Meet Ethan Gelber
Ethan, BikeAbout's founder and president, is a graduate of Yale University and Columbia University's School of International and Public Affairs (with a Masters in International Education and Cross-cultural Communication). He learned about education, technology, and bicycle travel during his six years helping to establish, manage, and guide for Blue Marble Travel, a European bicycle tourism company. A native of New York City, Ethan has taught Humanities at an inner-city alternative high school that he helped open and design the curriculum for. He has also worked for UNESCO, the American Council of Learned Societies, and different educational and regional research institutes associated with Columbia University. Ethan has toured extensively, often by bicycle, in Europe, the Mediterranean, Asia, Africa, Australia, and the Americas. He speaks fluent French, functional Italian and Spanish, and sloppy German. Since the BikeAbout–the Mediterranean journey, in addition to his work for BikeAbout, he has moonlighted as a writer, editor, project manager, and translator, most recently for GORP.com, Lonely Planet Publications, the French Government Tourist Office in New York (as publications manager and editor of its FranceGuide magazine in 2004 and 2005), and now the Starlight Children's Foundation in Australia, for whom he coordinated the Tour de Kids. After a year living in Sri Lanka (September 2004 to September 2005), where he worked as an alternative tourism consultant and wrote for, among others, Lonely Planet (again) and Travel Sri Lanka magazine, he has moved to Sydney, Australia. Click here if you would like to read about his travels in 2002 and 2003.


Send Ethan mail

Ethan's Packing List
Ethan's Project
Moroccan Clothing
Ethan's BikeAbout Dispatches
Topics: thoughts about the upcoming trip
Topics: tajine (food), mint tea, clothing, Phoenicians, money
Topics: Pigier Schools, education, economy, Internet access
Topics: pastilla (food), Internet access, cultural exchange, Mediterranean Sea, daily life, taxis, wildlife
Topics: brik (food), environment, Bizerte, wildlife, Utique (Utica), mosaics, Punic tombs
Topics: medina, harissa (food), computer technology
Topics: Salade méchouia (food), ribat, mosque, rules of the road, medina, catacombs, daily life
Topics: agriculture, Hollywood films, cinema, "STAR WARS," "troglodyte" (cave) homes
Topics: fenek (food), Valletta, Knights of the Order of Saint John, Crusades, HISTORY, architecture, megalithic temples, Phoenicians, daily life
Topics: bargaining, numbers, antiquities, Egyptian Museum, King Tut, terrorism, rules of the road
Topics: bicycle safety, water, Nile River, Nile Delta, rules of the road, water pumps, agriculture, Persian wheel
Topics: Sinai Peninsula, Suez Canal, HISTORY, environment, "bonking" (bike term)
Topics: maftoul (food), Khan Younis, Intifada, HISTORY, PLO, cultural events, women in society, environment, family life
Topics: thoughts during mid-trip break
Topics: humus (food), Temple Mount, Mount Moriah, Dome of the Rock, Herod, Jerusalem, HISTORY, Crusades, Hadrian, Alexander the Great, Ottoman Empire, Diaspora
Topics: bagel (food), military history, military service, bicycle advocacy, Diaspora
Topics: kebabs (food), 'Akko (Acre), Ptolomy, Crusades, History, "making Aliya", Mt. Carmel, Baha'ism
Topics: Leila Mouammar (Person of the Day), Beirut (reconstruction, Hamra), Civil War, war, HISTORY, Eid el-Futr party
Topics: Phoenicians, papyrus, Alexander the Great, Byzantines, Crusaders, alphabets, bike safety
Topics: border crossing, nutrition, Hafez al-Assad, Middle East wars, history
Topics: agriculture, daily life
Topics: Adana kebab (food), Antioch, Saint Peter
Topics: Iskender kebab (food), Coast of Golden Sand, tourist over-development, the Greek gods, international artifact theft, Side, Antalya, HISTORY
Topics: geography, Constantine the Great, HISTORY, Constantinople/Istanbul
Topics: media, antiquities, King Philip II of Macedon, history, alphabet
Topics: tzatziki (food), Greek restaurants, Katerina (Person of the Day), Acropolis/Parthenon, HISTORY, "No Limits World," a quick tour of Athens, Greek-Turkish relations
Topics: souvlaki (food), Olympic Games, Wonders of the Ancient World, the Greek gods
Topics: grilled meat (food), the Town Hall and Mayor of Konitsa, earthquakes, school presentations
Topics: bus ride through Albania, border crossing, "pillbox" bunkers, first impressions of Albania, History (modern)
Topics: burek (food), Albanian greetings, Albanian Education Development Project, Open Internet Center, travel arrangements, biking with the Albanian Cycling Union, Petrela Castle/Fortress, saying goodbye
Topics: pida (food), Sarajevo, Balkan war, living with war, HISTORY, acronyms
Topics: school visit, UNESCO and World Heritage education activities, Split, history
Topics: Skocjan Caves, Koper, Karst region, Lipizzaner stallions, Lipic(z)a, history
Topics: cappelacci di zucca (food), FIAB, Cities for Cyclists, history, Este family, bike advocacy, bikes and boats
Topics: delicioso limone (food), Amalfi Coast, compass, Roman gods, Mount Vesuvius
Topics: pasta (food), Roma, hills of Roma, HISTORY, Order of the Knights of Malta
Topics: Christopher Columbus, French and Italian Riviera, Alfred Nobel and the Nobel Prizes
Topics: cassoulet (food), langue d'oc versus langue d'oïl, Association DIA, Marseille, history
Topics: handicapped bicyclists, hospitality, Perpignan, Padraic's departure, Côte Vermeille/Costa Brava, "tra montana" winds, Catalonia, history, Iberian Peninsula
---
---
Copyright 1997-2006 BikeAbout. All rights reserved.
* Rider Cartoons by J.R. Lara. Used by permission.