topics: challah (food), Sabbath, ancient Ashqelon, Philistine city-states, Crusades, exchange rates, security checkpoints, vegetation, environmentalism; jump to dispatch
BikeAbout Log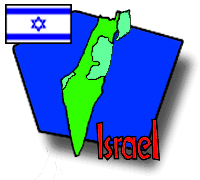 Rider Notes: December 12, 1997
Breakfast: Since we ate so late in the evening on the night of our farewell BBQ, and slept in a little (having arrived back at the Diwan so early in the morning), breakfast was a few cookies and some tea.
Lunch: Breakfast was actually more of a brunch. We ate speedily in an attempt to get on the road. It was just a couple more cookies, and then we were off! Much later, once in Israel, we stopped at a supermarket and bought some challah bread (see the Food of the Day).
Dinner: We wandered the streets of Ashqelon for quite some time before finding an open restaurant. The problem is that we arrived in Ashqelon late in the day on Friday, which is when, at sunset, the Jewish Sabbath (and weekend) begins, lasting until sunset on Saturday. However, unlike Sunday in the U.S. or Friday in Muslim countries, where many stores and restaurants remain open, in Israel, after sundown in Friday, almost everything closes. Unfortunately, having had so little food — such a light brunch and only a bread snack in between — we were starving! Finally, we found one pizza place that was open.
Food of the Day: Challah

Challah, or hallah, is a white bread baked in a braided form and used by Jews during the Friday evening Sabbath meal and on holidays. As we arrived in Ashqelon, we were all low on energy. Corinne disappeared into a local market and came out with a loaf of challah. It did not serve its ceremonial purpose, but it gave us enough energy to keep going.

Word of the Day: "C'mon, man"


"C'mon, man!" in Gazan Arabic is one phrase that's been really hard to learn, however useful it may be. We do all right with single words, but putting them all together is an instant tongue twister. Click on the icon

, and you can practice some yourself!
It's time to tell you all about the sixth BikeAbouter — the Fish — who has remained behind the scenes until now. Actually, it's been behind andrEa too! andrEa brought her pet (wooden carved) fish on the BikeAbout trip, which she fastens to her back rack everyday, like a license plate.

It was rescued from a shop where at least 50 other fish were waiting for homes, but none seemed to have the same special piranha smile that hers does.
This happy passenger (don't let the ferocious teeth fool you, the fish is a sweetheart) has been part of our group since the outset, and even enjoys some of the perks of being a rider. In the photo you'll notice the rose in the fish's mouth, which was given to andrEa at the Jabalia Independent Youth Union in the Gaza Strip. At the end of BikeAbout, Fish will be released into the Straits of Gibraltar, given a choice to stay with the sea, or give the Atlantic a swim. We'll see what it decides.

Place of the Day: Ancient Ashqelon


While the new city of Ashqelon does not have much in the way of history or contemporary appeal, the nearby site of the ruins of ancient Ashqelon is important and will help us bring another piece of the Mediterranean historical puzzle into play.
Famous in the region as the birthplace of Herod the Great (one of the most important kings of Roman-controlled Judea — and therefore of the Jews — who reigned from 37 BC until about 4 BC), Ashqelon was one of the five great city-states of the Philistines
, the other four being Gaza, Ashdod (just to the north of Ashqelon), Ekron (near Qiryat Egron northeast of Ashdod), and Gath (just to the east of Ashqelon in present-day Qiryat Gat). The Philistines, whose origins are to this day unknown, arrived in the area during Biblical times and were a constant threat to the Israelites who also settled the land. The Bible is rife with the names of people and groups — Kings David and Solomon, the Maccabees, etc. — who led the Israelites in a constant struggle against the Philistines. The Philistines gave their name — Palestine — to the region where their known history begins and ends.
In later years, Ashqelon was a hard fought prize during the Crusades and changed hands a number of times before finally being destroyed in 1270.
Today, aside from being a pleasant beach resort that attracts many warm-weather sun-seekers from Tel Aviv, Ashqelon is noted for its particularly large communities of recent Russian and Ethiopian immigrants.

Tech Fact of the Day: Exchange rates


The exchange rate against foreign currencies is very important in every country you will visit. Today, given the ease with which money can be exchanged, at some shops and hotels, you have the option of paying in either local currency or U.S. dollars. While this turned into a problem on our last day in Egypt, it worked to our advantage in Ashqelon.
Today, one U.S. dollar is worth approximately 3.3 Israeli shekels. Oddly, our hotel in Ashqelon, the most expensive one we have paid for yet, offered the choice of paying U.S. $120 for our rooms with breakfast, or 500 shekels, which is more than U.S. $120 when you convert it back. Luckily, we still had a little American cash, so we paid with that!

Group Dispatch, December 12


Friday morning was a tough for all of us. In Gaza City, we stayed in bed a little longer than usual both because of our late night BBQ experience and because we didn't have a tremendously long bike day planned. As we sent out the last of our e-mails and packed our paniers and bikes, there was a somber feeling in the air. It was time to say goodbye to our new and close Palestinian friends who aren't allowed to accompany us past the border of the Gaza Strip.
The sun was out for the first time in three days and we were mighty thankful for the opportunity to ride in milder weather. While tuning up the bikes for the road ahead, however, the tread on the tire of Anthony's troublesome rear wheel finally breathed its last, letting all the air out of his tire. He replaced it, and we all signed the old one with our best future wishes, as a gift to the Diwan el Shabab, a token that Emad happily accepted.

We paused for one last photo outside the Diwan in front of their lovely DIA logo mural

, and then off we went, with the sixth BikeAbouter — the Fish (see the Person of the Day) — in tow as usual.
Unfortunately, while we signed and dedicated Anthony's tread inside, some local kids who had been admiring the bikes in the courtyard "borrowed" a few pricey items from andrEa's and Corinne's bikes and bags, which we didn't realize until much, much later in the day. As our first major loss during the trip, it could have been a lot worse, much more devastating. So we had no choice but to shrug it off.
Once underway, as we wound our way through the Gazan back streets of mud and sand, trying to find the city limits, we had to ask for directions a number of times. It was a revealing ride that took us back through the crowded streets and seemingly endless urban sprawl of Jabalia. When we finally reached the main road to Israel though, a new depression hit. For the last few kilometers to the checkpoint, through customs and the many passport verifications, it was never more clear to us, despite the security measures and complications, how simple it is for Americans and Western Europeans to cross the border. The injustice of not allowing others to do the same, of forcing our friends to remain in Gaza, was and is upsetting. We hope to see it change.
After the remarkably quick security check — once again all our bags had to be removed from the bikes and x-rayed — we were on our way to Ashqelon. Before reaching the checkpoint area, however, we had witnessed a terrifying clash between two Israeli soldiers. At first they seemed to be goofing off like some young men do — sort of shoving, chasing, and punching each other in what appeared like good clean fun. However, in their anger, both men's hands reached for their guns on occasion, and that was worrisome. All violence is disturbing, but when weapons are so readily available, hanging from every soldier's shoulders, it's a lot scarier. Our rubber necks and fear slowed our bikes down, as did the fact that half the group was ahead of and the other half behind the tussle. The idea of getting caught in crossfire seemed like a possibility, which struck us as a bitter irony; so many people worry about violence in Gaza, which we had just left. One of the soldiers fell on the ground, and was kicked by the other repeatedly. The standing one then took his gun off his shoulder and raised it above his head to club the fallen man, but was stopped by the other soldiers. That was our cue to pedal onward, which we did. This was an unfortunate introduction to the next country we were looking forward to experiencing.
Once past the border area, the change in landscape was shocking. Gaza City is a crowded, mostly urban zone, with many concrete buildings of a similar color and shape. By contrast, after having traveled only a few hundred feet across a border, we were in a land of endless rolling hills

, rich vegetation, and scattered villages of comparatively modest population. The variety in plant life was a pleasant reminder of how easily life can exist when properly nourished.

The roads were smoother too, and the highway on occasion boasted enough room on either side for us to ride safely alongside the speeding traffic.

It was a whole new reality. And the change had come quickly and easily . . . for us.
The short ride into Ashqelon was swift and pleasant, even though we had a slight headwind.

The real trouble was finding a hotel; we knew of a few, but had an imminent Sabbath eve sunset and thin wallet working to our disadvantage. Arriving in Israel proper also meant a whole new language — Hebrew — and a new set of cultural and religious practices to understand and respect.
With regard to the Sabbath: In Judaism, the holy day, or shabbat, runs from sundown Friday to sundown on Saturday. This made trying to find a hotel at 3:30 p.m. on Friday — sunset was coming at 4:39 — a scramble, since nearly all businesses close, and observant Jews do not handle money. We circled around the inner city of Ashqelon via the outer roads for some time trying to find the way inward, making the process that much more frustrating. Most of us kept a fairly good attitude about it though — all except one, who also decided to exhibit poor cycling form to boot!

And far as cultural-adjustment concerns go: Whenever we hit a new city, we have to figure out everything, from public phone systems

to public transportation. The first thing we noticed about this town were the rules of the road. Suddenly there were stop signs and traffic lights, and everyone actually paid attention to them.

The chaos of North Africa was behind us. Even better, the road signs in Ashqelon — and throughout Israel — are in Hebrew and English. And the many people who seemed to speak English were helpful.
The next we thing noticed was the proliferation of solar panels atop the houses and buildings. It occurred to andrEa that the interest in environmental issues increases when a country's standard of living is high enough to meet people's basic needs. Only then is it possible to move beyond the obvious issues and react to global concerns like energy consumption and what is known as "green living." The solar panels above our hotel rooms

were also evidence of a new perk for us: HOT SHOWERS for the first time in nearly a week!
So we paid for our hotel, in American dollars (see the Tech Fact of the Day) in advance just minutes before the Sabbath began, and then settled into our first evening in our ninth country.
After much needed showers and a little relaxation, it was off to dinner. The evening walk through the suburban-feeling Ashqelon was a reminder to us all of the peacefulness to be found in developed nations sporting wealth and sprinklers. Absolutely starved, we finally found the one and only pizza place open in one of the main "squares" of the city. It was a saving grace, despite the numerous pizzas we had already consumed during our time in Gaza. After dinner we enjoyed the pleasant sound of the rain on the roofs, and as we worked on backlogged dispatches from Gaza, we poured over the memories.

Questions? Ask andrEa

!
---
---

Internet access and Web hosting while in Israel were provided by Aquanet.
Copyright 1997-2004 BikeAbout. All rights reserved.