topics: challah (food), Sabbath, ancient Ashqelon, Philistine city-states, Crusades, exchange rates, security checkpoints, vegetation, environmentalism; jump to dispatch
BikeAbout Log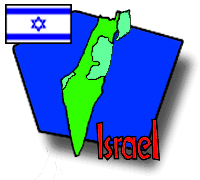 At 6:00 PM
December 12, 1997

Sunrise (local): 6:31 a.m.
Sunset (local): 4:39 p.m.
Weather
65°F
Traveled Since Yesterday
20 m / 32 km
Cumulative
1496 mi / 2409 km
Lat: 31° 40' 37" N
Lon: 37° 33' 55" E
Elev: 0 ft / 0 m
Fast Facts
Where We Are: Ashqelon

Where We're Staying: Samson Gardens Hotel

Places We Visited: biking-only day — no visits, only another border crossing

Featured Site: Ancient Ashqelon

Person of the Day: Fish, andrEa's pet passenger fish

What We Ate:

Food of the Day: challah bread
Breakfast: cookies, tea, water
Lunch: a few more cookies and a bread snack
Dinner: pizza (again)
Olive Count: 1306

Word of the Day: "C'mon, man" , in colloquial Arabic, is commonly heard in Gaza.

Tech Fact of the Day: Exchange rates and paying in American dollars

Flat Count (Cumulative): 5
Broken Spoke Count (Cumulative): 20
Next Stop: Hebron (Palestine) for three of us,
and Tel Aviv (Israel) for one!
(Ethan is headed back to the United States a few days before our break to continue fundraising for BikeAbout from New York. Farewell and good luck, Ethan!)
---
---

Internet access and Web hosting while in Israel were provided by Aquanet.
Copyright 1997-2004 BikeAbout. All rights reserved.