topics: biegnets (food), border crossing, customs, environment, scenery, Muslim holy day; jump to dispatch
BikeAbout Log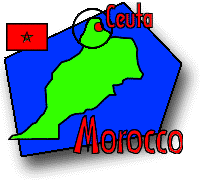 Rider Notes: October 3, 1997
Breakfast: The one open shop at 7 a.m. had a fresh and yummy selection of pastries. We wanted to get a jump on the day, so we grabbed a few of each and ate while on our bikes.
Lunch: We rolled through yet another little town and raided a shop for bread, cookies, juice, more water, and junk food to get us through the afternoon.
Dinner: The small sandwich shop around the corner from our hotel had many items on offer, and we sampled nearly everything. Surprisingly, no one opted for the brain sandwich, but everything else was very satisfying, especially a new variation of potato and egg salad, the only remotely vegetarian item available.
Food of the Day: Beignets

A biegnets is a deep-fried pastry that resembles a donut. It is served very hot and usually with sugar on top. Despite the Moroccan love of sugar, our beignets — purchased from a street vendor — were served without any. We didn't care since we were drained from the steep portions of the final 8-km (5-mi) ride into Al Hoceima.
At least once a day — usually at major intersections — we slow down near or are stopped by a small group of policemen whose job it is to inspect every vehicle that passes. Warning signs always announce them as Agents de Douane, or Customs Agents, and they appear to be checking for improperly or illegally transported goods. We once saw an enormous quantity of umbrellas being taken from a truck. We wondered what was so dangerous about umbrellas! These policemen are usually very nice to us, waving us through or asking a few brief questions about our trip. Today, when we reached the traffic circle just a few kilometers from Al Hoceima, one friendly policeman stopped us all and examined our passports one by one. He even had us fill out small forms. When this formality was complete, he wished us a warm welcome to Al Hoceima.

Place of the Day: Above the clouds

Early in the morning, we stopped to relish the fact that we were actually ABOVE the clouds on the mountain, and to rejoice in the anticipated 114-km (71-mi) ride that we hoped would be at least half downhill!

Group Dispatch, October 3


This is the first time we have biked two days in a row. We were all already pretty sore from yesterday's 1600-meter (5249-foot) climb stretched out over almost 70 kilometers (43.5 miles). Still, the idea of pedaling back down to the shores of the Mediterranean Sea motivated us to get out of bed at 6:30 a.m. and onto our 24-speed steeds

(that and the fact that there would probably be a shower at the end of the road). Just outside of Ketama, nestled below a cedar tree on the side of the mountain, a hand-painted, stone kilometer marker revealed our fate: 114 km (71 mi) to Al Hoceima. We kept our fingers crossed that at least half of this would be downhill. Since Al Hoceima was on the coast, we knew we had to descend all 1600 meters (5249 ft) to sea level at one point or another, but we were not sure when, or whether we would have one swooping descent or several small downhills separated by mountains!
The early-morning ridge-top views from above the clouds were breathtaking, and it was very interesting to see that on this side of the mountain, the soil was redder in color. We even noticed that the houses and buildings

used different styles of architecture. It was hard to resist stopping every few kilometers to take photos and shoot video!
By midmorning, the guys, concerned about the distance that had to be covered, were ready to let Corinne and andrEa decide for themselves whether they would take a repeat taxi joy ride. Everyone decided to continue, and after a lunch on the hillside, where some officials (perhaps diplomats?) stopped to chat, the gals had no problems keeping up.
Like Saturday for Jews and Sunday for Catholics and Protestants, Friday in Morocco is the holy day for Muslims — the day for family and rest. As it turned out, the roads were less crowded with the otherwise endless stream of work trucks, cars, and taxis. There were also fewer merchants hawking their goods on the curves of the road and on the hillsides. This can get rather bothersome, especially for the gals when the guys are nowhere to be seen. Anywhere you stop, someone approaches you for conversation or a potential sale!
Much to our relief, there were plenty of enormous downhill stretches, a few of which were several kilometers long! Despite an intermittent and pesky headwind, we made great time. By 3:00 p.m., we were all happy to see the distance to Al Hoceima had been reduced to only 35 km (22 mi), meaning we would not only make it into town well before sunset, but everyone would arrive together — more or less . . . with Corinne again pushing her bike up the last insulting hill into town.

Questions? Ask Corinne

!
---
---

Internet access and Web hosting while in Morocco were provided by AzureNet.
Copyright 1997-2004 BikeAbout. All rights reserved.