topics: cultural exchange; jump to dispatch
BikeAbout Log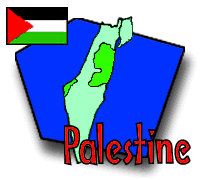 Rider Notes: December 8, 1997
Breakfast: Until this morning, BikeAbout had never had an official breakfast with a Deputy Minister of Youth and Sport.

We enjoyed cookies, juices

, good words of friendship, and plenty of interest in exchange.

Lunch: Nothing! Since we were rushing around to all our different visits, there was no time for lunch today. The people at DIA / Diwan el Shabab (see the Place of the Day) have set up a full schedule for us here, and when we are running a little late, some sacrifices have to be made. Ah well!
Dinner: Our group of visitors to Gaza grew in number today with the addition of three new faces: Eric and Jean-Charles from DIA's headquarters in Marseille, France, both of whom came to work on a special project; and Mr. Mohamed Elamin N'Diaye

, a Parisian friend of the DIA staff, who was visiting during his retirement/vacation. The dinner table was hardly long enough for all the humus, tahini, kofta, shwarma, mixed salad, and Palestinian falafel we gobbled up. It was definitely jaied or "good"!
Food of the Day: Food, part II

Today we're talking more about hunger, because we had so little food. Once again, we have no real Food of the Day

because we were kept too busy learning about Gaza and meeting new people. Our light breakfast at the Ministry of Youth and Sport had to hold us all the way through to dinner. If andrEa had known about the delicacies that did await BikeAbout in the evening, she might not have imagined hearing food continuously mentioned in every Arabic word spoken that afternoon. The stomach can play tricks on the mind . . .

Person of the Day: Emmanuel Delpuech

Emmanuel Delpuech, 22 years young, has been the French coordinator of Diwan El Shabab (see the Place of the Day) in Gaza City for one year. With Emad Ahmed, he sees himself as a student — rather than "Director" — helping to manage the Diwan's activities.
Emmanuel has a resume not unlike many of us who run in the non-profit, NGO (nongovernmental organization) circuit. He finished high school in France, worked on projects with DIA in Sarajevo, and then moved to the Middle East to work with DIA in Gaza.
About life in Gaza, he says that people with the right "vitamins" (or connections to the right people) can have a good life. There are people in Gaza driving nice cars who are never really forced to touch the "real" Gaza, or live in the refugee camps. They magically avoid the ever-present sand and winter mud


, they never lack water in summer, and they don't see or hear the expressions of futurelessness made by the majority of people living in what some describe as a giant jail under constant closure.
Emmanuel's scheduled time in Gaza finishes at end of this year [1997]. We are confident that he will pursue a successful path no matter what he does. Don't forget, Manu, "You are welcome!"

Place of the Day: DIA / Diwan el Shabab


Not too far from the center of Gaza City, the DIA / Diwan el Shabab building (near El Nasser Street) is a two-story structure with a small garden . . . and also a solid roof over our heads for the next few days. Memories of our first impressions usually involve sand and olive trees — appropriate images for this peace-oriented organization.
When we arrived, we found a whitewashed wall covered with colorful murals surrounding the central building and garden





and gaving them a bright look and feel. Inside, signs and decorations created by local youth seemed to demand that EVERYONE be creative!



Thus, it seemed perfectly natural to us that one of the DIA / Diwan el Shabab projects is to create and maintain a Web site, which is currently being revised and polished. [Note: Although this site did see the light of day, when funding for DIA's Diwan el Shabab dried up, the Web site had to be disconnected too. Nevertheless, we can offer a short unedited excerpt by way of explanation of what it was that happened at the time:]
"DIA is an International Solidarity Organisation financed by the European Commission — Media Democracy. Opened in January 1997, the 'Diwan el Shabab' is a youth center for initiatives and dialogue, situated in Gaza City, near the Shati refugee camp. 'Diwan el Shabab' ('Meeting Place for Youth') gathers about one hundred young Palestinians from 15 to 25 years old, through 6 different workshops: Media/Video Production — Theatre — Writing/Press — Multimedia/Internet — Artistic Expression/Design — Photography."
Regular activities include a weekly debate, called "Diwan el Khamis" ("The Thurdays of Diwan"), that addresses social issues and involves the young public of Diwan el Shabab and external guests from civil society (such as professionals, families, other youth clubs, Palestinian and international NGOs, and representatives of institutions). Special events, such as the visit of BikeAbout–the Mediterranean

, are also part of the ever-expanding schedule at the Diwan.
Another responsibility of Diwan el Shabab is to ensure that each workshop produces materials deeply connected with current Palestinian society. This "citizen's link" is forged by the young people in order not to lose the sense of Palestinian realities: 60% unemployment, dependence on an unsteady economic situation, little access to knowledge and education, a suffocated cultural life, the difficulty of getting out of Palestine etc.
The Diwan el Shabab is also working toward economic autonomy. Products developed through the workshops send give a strong social message about local creativity and followthrough. They will be sold to promote the self-sufficiency of all activities.
Finally, Diwan el Shabab provides a variety of services: French language courses, a documentary resource library (about citizenship experiences taken from testimonials from around the world), local and international film screenings, free access to e-mail and other the Internet resources, and the first youth job agency of Gaza aimed at linking a strong supply to the healthy demand for employment.
For the past few years, the Palestinian National Authority has attempted to reach out to the youth, for example, by promoting sports activities. Nevertheless, Gaza is still very much in need of places that enhance cultural exchange for young people. That is why Diwan el Shabab is so important.
The idea of the Diwan in Gaza City started with an exploratory visit two years ago by DIA staff to make contacts with local people and groups. Some of the major difficulties faced at the beginning involved spreading the word about DIA's work in Gaza. Since DIA is of French origin and financially supported by funds of the European Community, it took a while to convince people that the Diwan was neither a tourist office nor a travel agency, but actually a place for young Palestinians to meet, learn about their own skills in guided workshops, and develop possibilities for their lives.



Group Dispatch, December 8


Our day began when we woke up in . . . Palestine. What a moment! After so many days on the road, cycling east across so much land and around a tideless sea, we really had arrived at one of the most "impossible" places on our trip.
But our meditative moment was a short one: It was 8 o'clock and the Diwan had started waking up. Young people kept arriving

, cooking tea, working on computers, and waiting to check us out, the newcomers with their bikes. We were interested in checking them out too.
Unfortunately, at the same time as we were greeting our many new friends, we also had to wish farewell to an old one. In order to get back to an important wedding in the States, Padraic had to leave the BikeAbout group today. He was concerned, as were we all, about an ongoing labor strike in Israel that was affecting airport traffic. No one knew what his chances were like of getting out through Israel's Ben Gurion airport near Tel Aviv, but Padraic had to try. So, wishing his bike a Happy New Year (he had decided he would leave it at the Diwan el Shabab during the break) and already thinking ahead to a reunion in January 1998, off he went. Oh, he said bye to us as well.
For the rest of the team, BikeAbout's official stay in Gaza began today with a meeting at the office of the Palestinian National Authority's Deputy Minister of Youth and Sport. Together with Emad, Emmanuel (see the Person of the Day), and our new friend, Mohamed Elamin

visiting from Paris, we were welcomed by Dr. Ahmad Yaziji, the Deputy Minister in person.

After he introduced himself and made some opening remarks about Palestine and how welcome BikeAbout was, Ethan talked in detail about BikeAbout's aims and accomplishments, and explained the potential of the Internet as a tool for communication everywhere in the world, including Palestine. He pointed out that the Internet as a tool through which learning should be encouraged is especially relevant in places excluded from the world community, as Palestine is. Some more views were shared, the BikeAbout Web site was demonstrated, and then, as a small thank you and remembrance of our stay, the Deputy Minister made a gift of a handmade flag displaying the Ministry's emblem.

One of the Diwan's goals is to communicate to the world basic and unbiased true information about this mysterious land spoken of in the news only when there is conflict. For example, even after having heard about it so much in the news, you may not know exactly where Gaza is. And have you ever thought of how life might be there?
Well, now is the time to look at a map to figure out just exactly where it is.

And BikeAbout can assure you that life here is a daily confrontation with a tough reality — haunting, often sad, almost always invaluable. The people of Gaza are much more than the stone-throwing terrorists on the news. In fact, they are much, much, much more. We found them to be particularly warm, welcoming, and brave. But don't just sit there and believe our words or those of the often-biased media . . .
Go there.
Go there if you get the chance, and learn about it yourself. In fact, we encourage people to travel to any and all of the places we have been so far. Any organizations or individuals interested in communicating across the cultural divides we face can go to our list of Participating Organizations and write to one of our many listed contacts for more information. You might be as amazed as our group has been at the interest other people have expressed in exchange, especially since they know how little the rest of the world really knows about their homes and lifestyles.
Anyway, at 3:30 p.m. it was reception time. The Diwan coordinators had sent out a bunch of invitations and posters to people throughout Gaza City, alerting them to the presence of BikeAbout. This event was organized as a way for us to explain what we are up to and for the Palestinians of Gaza to share information with us about their lives.
No, andrEa, not all receptions in the world are necessarily held in the "JF Austrian" sense ("JF" means "just food"). This Palestinian reception was actually hard work for the BikeAbout team. We talked with skilled debaters and faced an ongoing stream of insightful and critical questions. The rooms of the Diwan were filled with people of all ages eager to find out what it is that makes five people come on bicycles to this "impossible" land.
Here we must extend a special thank you to Samer of MECo, who translated into Arabic for us when English didn't work. Samer tirelessly relayed questions and comments to our already-exhausted ears and brains: "Why is Arabic not taught in western schools?" "Do not favor us, but also do not disfavor us." "What do we want to have said about Gaza? Write how you see us. Avoid personal sentiment. Tell the truth about Palestine." Yikes.
For more than three hours, BikeAbout enjoyed an ideal situation for pursuing honest discussions with people of all ages.


Everyone was eager to talk without avoiding sensitive topics and the BikeAbout team wasn't intimidated when trying to reply.



The Diwan provides a very safe environment for tough situations, where disagreement is OK, and everyone is obliged to look within him- or herself in pursuit of answers and questions.
Finally, when we had officially dipped deep into the red zone of HUNGER (see the Food of the Day), the BikeAbouters and DIA hosts crammed into a four-wheel-drive vehicle — the DIA mobile — and zoomed off to a locally favored falafel place for a copious dinner. There we met Eric and Jean-Charles, only just arrived from DIA headquarters in Marseille, France. With them and Mohamed Elamin, we enjoyed an excellent meal. Just in time too. From the restaurant it was back to our waiting and welcome beds.

Questions? Ask andrEa

!
---
---
| | |
| --- | --- |
| | Internet access while in Palestine was provided by PalNet. Internet access while in Gaza was arranged by PalNet's representative in Gaza, Modern Electronic Company (MECo.). |
Copyright 1997-2004 BikeAbout. All rights reserved.