topics: Arabic greetings, security checkpoints, Shepherd's Field, religious sites, Israeli/Palestinian conflict; jump to dispatch
BikeAbout Log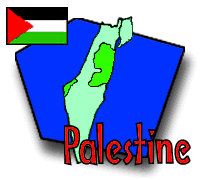 Rider Notes: December 15–16, 1997
Breakfast: In Hebron, on Monday morning, Hisham's aunt was kind enough to make andrEa's favorite good biker's breakfast: terrific Arab coffee. Before our final departure, though, the group was also presented with the area's traditional breakfast of hot tea, fresh pita bread, a large potato-and-onion omelette to share, and lots of extra fixings, including jam and an olive-oil-and-ground-thyme combination.
Lunch: Upon our arrival in Beit Sahour, the two Rishmawi households (where the BikeAbouters are housed for the next couple of nights — see the People of the Day) had already prepared lunch for us, a traditionally large meal eaten with the entire family. And large it was! We started with a very light soup, followed by roasted chicken, rice, salads, and Palestinian pizza topped with yogurt!
Dinner: After Hanna (one of our host fathers) returned in the evening from the family store, everyone sat down for a meal much like breakfast. Fresh breads and a huge variety of spreads, dips, cheeses, and fixings. Everyone built a sandwich, or tore the bread into smaller bits for a smorgasbord of sweet and sour tastes.
Food of the Day: Dried nuts, seeds, and beans

A grand variety of dried seeds, nuts, and beans is sold in different ways on the street and in shops throughout this area.

Sometimes only one type will be sold by a single vendor, who pushes a cart through the streets. Other times a cart or store will have many different kinds, often available while still toasty hot!

Word of the Day: "Good morning," "good afternoon," and "good evening"


The greetings for Christian Arabs are as follows: "Good morning!"

(which sounds a lot like Tunisia's cebaha el care), "good afternoon!"

(which sounds a lot like Egypt's merhab), and "good evening!"

(which must somehow be related to Tunisia's toosbehoo el care). See our Tech Fact of the Day for a better understanding of how the greetings used by individuals in Palestine help identify them as belonging to particular religious groups.

Tech Fact of the Day: Religion-specific greetings in Arabic


Since the family we are staying with here in Beit Sahour is Christian Orthodox, not Muslim, they taught us some new greetings in Arabic. They explained that it is easy to determine a neighbor's religion by his or her greeting. Since assalam u-alaicom is a Muslim greeting in Arabic (as is ah-salaama), we also had to learn to both say and hear all the new greetings and responses for this new community of friends and family (see the Words of the Day)! Also, click the audio icon

for a special Orthodox Christian Arabic holiday greeting from the children of andrEa and Corinne's host family.

Person of the Day: Rishmawi family

Today, instead of just one person, we are featuring a whole family: all the Rishmawis! The BikeAbouters are housed here in what we call the Rishmawi family compound. While pretty much the entire neighborhood is made of loosely-related members of the same family, we all stayed in one enclave of three new homes belonging to one close unit. This tightly-knit family often hosts foreign visitors through the Alternative Tourism Group (see our Place of the Day) and the Palestinian Centre for Rapprochement Between People in Beit Sahour. We can't thank them enough for their help with food, housing, and especially the much needed laundry overhaul!

Anthony's host parents are the matriarch and patriarch of this group. The people he stayed with are: Saliba, Lydia, George, Nedal, and Jassam. The two other families, with whom andrEa and Corinne stayed, are two brothers married to two sisters. Naturally, they told us all about their double wedding, and shared that the two boys of both families were each born on the same day! These kind folks are: Layali, Jasmeen, Wasseem, and Bassem (not pictured is the host dad, Hanna)

, and Sousan, Rabia, Sami, Romi, and Jaydai.

Place of the Day: Alternative Tourism Group of Beit Sahour


The Alternative Tourism Group of Beit Sahour (ATG) is an organization that connects visitors to the Holy Land with local families. Since many people visit Bethlehem as part of a religious pilgrimage, and Arab Orthodox Christians make up most of the population of this town barely one km downhill from Bethlehem, it is a booming enterprise.
Through the continued support of a Dutch company, the ATG is also in the process of rehabilitating several buildings in an effort to turn them into community hotels. They offer to travelers the possibility of learning more about the area — also known as Shepherd's Field — through maps, tours, and discussion groups. This is all part of the preparations for "Bethlehem 2000".
For more information on the ATG, here's how to get in touch with them:
Alternative Tourism Group
P.O. Box 173
Beit Sahour, Palestine
Tel: +972 2 277-2151
Fax: +972 2 277-2211
E-mail: atg@p-ol.com

Group Dispatch, December 15–16


Monday morning we left Hebron for Bethlehem, but not before an ample breakfast and a heartfelt thanks to Hisham and his entire family for their hospitality and warmth. Hisham helped us recover our bikes from storage, then departed by taxi — also for Bethlehem, by coincidence — to his freelance job shooting video at a Women's Model Parliament training session.
The climb out of town was difficult not just because the steep and steady hills, but also as a result of the foot traffic of young men and boys on their way to school. But this did not really bother us since . . . it was sunny out(!), and we were able to stay warm without too many constrictive layers of clothes. (Anthony and Corinne were already wearing trousers over their bike tights, since Hebron is notorious as the most conservative Muslim town in the West Bank, and they didn't want to accidentally offend anyone.)
On the road about three km out of town, another broken spoke (Anthony's 20th) provided the perfect opportunity for a quick change of pants. This also was the scene of our second encounter with exactly the same soldiers that Corinne and andrEa had met just two nights prior on the other freeway into town from Ashqelon. Once again they pulled over by the side of the road, stared at us for a while, and then eventually left. Perhaps because we weren't in conversation with any Arabs, they didn't harass or embarrass us this time. We were glad to see them leave. More than anything, we probably confuse these boys to bits!
After a few short hours of remarkably beautiful and hilly scenery

— complete with narrow passes and speeding trucks — we arrived in Bethlehem
, the notorious birthplace of Jesus Christ. Devout Christians will also associate this famous spot with the homes of both Ruth and Rachel from the Old Testament.
For some reason every public phone in the city center — also known as Manger Square — was broken, so we faced a real conundrum about how to get further directions to our host family for the evening. A very kind photographer let us use his cel phone for the purpose; he was one of the dozens of foreign photographers there to document the Christmas decorations being hung. We called the Alternative Tourism Group (ATG) of Beit Sahour (see our Place of the Day) and then biked the two kilometers STRAIGHT DOWN HILL to them in the nearby community of Beit Sahour. Given ATG's mission, they were happy to help three sweaty and squeaky-braked bikers find their temporary home.
But why all the stopping for directions and clarification, you may ask? Well, believe it or not, Beit Sahour has few street names and NONE of the buildings has numbers! This makes it a pretty confusing place to describe, much less understand, on the phone. As usual, we asked for still yet MORE directions from many, many people, and it was only once we had knocked on nearly every door in the neighborhood that we finally found our host family (see the People of the Day for more about this extremely helpful extended network of homes and hosts).
The area of Beit Sahour is also known, in English, as Shepherd's Field, since it is the legendary pasture on which the shepherds were told by the angels of the birth of Christ. "Beit Sahour" is Hebrew for "Village of the Watching."

Apparently, long ago, the Canaanites (original Israelites from the time of Abraham) occupied the area's numerous caves, and today Beit Sahour is also the site of many churches and convents. We took a short walk with Lydia, Anthony's host mom, to the Shepherd's Field Greek Orthodox churches

, where we saw the recently-discovered ruins of some of the earliest churches (the oldest from 325 AD). There are also two monasteries and one elementary school built here, as well as a new church with modern decorations and murals (not one inch of the interior is without paint — except for the wood trim — and the colors were very bright compared to the old churches we're used to).
The next day was very rainy and chilly. Our plans included a full day in Bethlehem for another spree of church visits and Holy Land history. It was decided that Corinne and Anthony would venture into town, while andrEa used her day and the facilities at ATG to get and send all our e-mails, since we haven't been on line in nearly a week.
Changing the last of our travelers cheques in Bethlehem was a bit hard to do, despite Bethlehem's importance as a tourist center. We were told that it is difficult for Palestinian bankers to deal with travelers cheques since the West Bank area does not have status as a nation. This kind of detail as a result of the non-status status of communities in the West Bank is, however, not new. This land has been occupied by Romans, Byzantines, Crusaders, Mamluks, Turks, the British, Jordanians, and from 1967 to 1995, the Israelis. Also, in recent times, the various Christian churches — Greek Orthodox, Armenian, and Roman Catholic — have disputed "ownership" of some of the most sacred spots in town.
Eventually we found a place to change our money, bought batteries for the digital cameras, and plotted out course for touring the town.

We started where everyone begins: at the Church (actually a basilica) of the Nativity on Manger Square. This church, a larger version (from 530 AD) built over the original early fourth century Byzantine structure, marks the cave (once used as a stable) believed to be the actual birthplace of Jesus Christ. Inside, placards mark the places where He was first nursed, and where the Three Kings visited him. The cavernous, fortress-like compound and courtyard

has many significant rooms, tombs, caves, chapels (including the study area where the Bible was first translated into Latin) — all with a solid place in history — relevant in both politics and religion.
The Door of Humility, which leads into the church, has, over the ages, been reduced in size, first by the Crusaders to make it impossible for horseback invaders to enter, and then again later for reasons we could not discover but making passage just that much more inconvenient.

Within is a maze of doors and stairwells that lead to a Greek Orthodox monastery, an Armenian chapel, and the infamous Franciscan Church of St. Catherine, from which Midnight Mass is broadcast on television every Christmas Eve. The decorations throughout the complex range from late 1960s bronze sculptures to Byzantine mosaics and ancient painted limestone pillars.
The most famous location in the place was also the most dangerous. The Grotto of the Nativity, right below the church's main altar, is believed to be the exact spot where Christ was born, and is marked with a fourteen-pointed silver star mounted in white marble. Many people kneel before this star, and dip their crucifix necklaces into its associated well. Many people have also died for this star, as it was a main reason behind the Crimean War (1853–1856), when Russia battled Britain, Turkey, and France for the right to remove or retain it. Fifteen lamps burn in the Grotto's recesses, six associated with the Greek Orthodox Church, five with the Armenian Church, and four with the Catholic Church.
The next leg of our tour through Bethlehem was a wander quest for tea inside the hilly and high city

, but away from the tourist crowds and in between raindrops. While we had no trouble finding the souqs and vegetable markets

, it was much more difficult locating tea! Eventually we were able to sit for a few moments to warm up, and then made our way to the last of our sites to see: the Milk Grotto

, a huge shrine to Mary, Mother of God, and motherhood in general. It is called the Milk Grotto because Mary is said to have nursed Jesus on this very spot (while hiding from Herod and before heading to Egypt). Some drops of Mary's milk are what the faithful believe turned the rock white and gave it healing powers. It is also a common place of prayer for lactating women.
When we were done, it was still early, so we met andrEa back at the ATG to check on our e-mails and follow up on the most urgent messages. After nearly a week off line, we had plenty of catching up to do! Fortunately, at the ATG, we were offered one Arab coffee after another to help us reheat and dry off after the soaking wet rain.
We also met George N. Rishmawi (yet another relative of our host family, but not a resident of the family compound), Assistant Director of the Palestinian Center for Rapprochement Between People in Beit Sahour. The Center for Rapprochement is a meeting place where Israeli and Palestinian people gather to discuss issues regarding religious freedom, as well as ways of peacefully and cohesively protesting their current governments' conflicts. While certainly a far cry from the ponderous and seemingly irresolvable situation faced by residents in Hebron, life in Beit Sahour has not been easy for its residents, many of whom have suffered as well. During the Israeli occupation and Palestinian Intifada, these neighborhoods were not exempt from harassment of all kinds.
Our hosts informed us of situations where entire families were awakened in the middle of the night at gun point, forced into their yards, and kept there until soldiers or civilians with guns had finished reminding the families that they were not citizens, and had no rights. Not even the right to sleep a night without being terrorized. In addition, some Palestinian people's land and homes were confiscated and used for settlements and military grounds, although it has since been returned as part of the new agreements between the Israeli and Palestinian governments. Still, the ongoing struggle for citizenship has not ended and these people who have welcomed many foreigners into their homes do not have the freedom to accept a similar invitation abroad. There is therefore plenty to discuss at the Center as positive steps toward finding a peaceful future where everyone is lives comfortably together.
Other activities of the Center for Rapprochement include members leading peace marches, educating the public on tax evasion as a way to protest governmental arms spending, and holding joint demonstrations highlighting the importance of equal rights for all people (sometimes with special appearances by leading international figures, such as the Archbishop Desmond Tutu). On Christmas Day, they hold an annual candle-lit march from Bethlehem to Beit Sahour in which many foreign people also participate. Numbers often exceed 4,000 people. By no small coincidence, the Rishmawi family compound houses the small art workshop where the laborious process of making the candles takes place. The Rishmawis also regularly attend the Israeli-Palestinian Thursday night Rapprochement meetings, which seek to keep the avenues of communication between people open, whether government delegates are behaving themselves or not.
After a short but inspirational meeting, the executive director of the Center for Rapprochement gave us permission to hold our own Chat 'n' Debate
session there the next day and opened up the possibility for participation from anyone who was interested.
BikeAbout is very glad to have opportunities like this wherever we visit. All the help we have received thus far in connecting with like-minded organizations and community groups has made our experiences in the Mediterranean both worthwhile and fulfilling. We certainly hope that our quick visits and new friendships help publicize and promote the multitudes of progressive people working together, determined to make peace, cultural exchange, and communication all part of a better future.

Questions? Ask Corinne

!
---
---
| | |
| --- | --- |
| | Internet access while in Palestine was provided by PalNet. |
Copyright 1997-2004 BikeAbout. All rights reserved.