topics: maftoul (food), Khan Younis, Intifada, HISTORY, PLO, cultural events, women in society, environment, family life; jump to dispatch
BikeAbout Log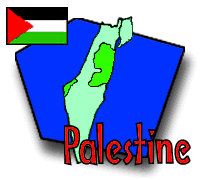 Rider Notes: December 9, 1997
Breakfast: With another full day of visits and presentations ahead of us, we drank only tea and chewed on some random pastries as we tried to continue with the writing, research, and preparation process.
Lunch: We were racing between meetings, having started later than we had hoped, and the sacrifice that we made was a leisurely lunch. So, during a 20-minute window, we all raced to a nearby lunch place and feasted on many, many dishes of humus and omelettes deliciously prepared with herbs.
Dinner: How can we do justice to this meal? Of course we can honor it as the Food of the Day and we can describe in detail the time and place and company (which we will do). But such efforts will always leave a product pale in comparison to the reality. Perhaps the best way of explaining ourselves is to put it in terms of who was absent. It could not be more regrettable that BikeAbouter Padraic, whose adoration of food is matched by few, was not around for this meal. We might have made a bigger dent if he had been present. Suffice it to say that we were treated to a true feast. In quality, quantity, company, and revelry, this dinner stands out as a marvel.
After our day's obligations had been met, Emad picked us up in the DIA mobile (already loaded with Emmanuel and visiting DIA staff) and drove us to Rafah, the southernmost city in the Gaza strip. You might recall that Rafah is the first city we encountered when we crossed into Gaza from Egypt and Israel. It is today an unfortunate town divided by an international border across which some families have never been reunited. You see, as part of the 1979 Camp David Accords, when the Sinai was returned to Egypt, part of Rafah went with it. Since Israeli law does not allow for Palestinians currently living abroad to return to Gaza and Gazans are usually unable to get permission to travel, some Palestinian families actually content themselves with screaming to each other across the no-man's-land at the border.
This time we didn't see much of the city (it was already dark) other than what we imagined we remembered (our memories were not very clear) from our first day's cycle into and through its center. But we quickly got lost as Emad wound the car through a maze of back streets.
Finally, we arrived before an open and welcome door, climbed some stairs, and were brought into the home of one of Emad's brothers. A short time later, we were all — the four remaining BikeAbout riders, the DIA crew, and three of Emad's brothers

— gathered around a warm table piled high with food! And not just any food. MAFTOUL (see the Food of the Day)! Lots of it! Six huge plates heaping with it and surrounded by bowls of supplementary vegetables, sauce, soup, and salad! This, together with some fine wine and good conversation, made for a repast that will never be forgotten.

Food of the Day: Maftoul


A traditional Palestinian dish, similar in many respects to the couscous we adored in Morocco and Tunisia, maftoul is served only on special occasions. Built like a castle of chicken on a foundation of vegetables sunk into a field of semolina grains, maftoul is eaten straight out of the large collective dishes in which it is served. It can be supplemented with more vegetables in sauce and/or a light but rich chicken broth.
We had learned about maftoul on our first evening in Gaza, and Emad, whose energy and interest in sharing with us as much of the Gazan experience as possible, took it upon himself to organize this traditional maftoul evening for us. (It was so traditional that the women who had labored all day to cook for us, never made an appearance, either to join us for a few bites or to be thanked for their kindness and generosity. To our regret, we never faced the chefs and complimented them on their skills. We hope that this thank you reaches them . . . )
This particular maftoul was served in six bowls.

We could not have been happier.

Person of the Day: Our Gazan sponsors


BikeAbout's presence and activities in Gaza have been made possible by a number of individuals and companies. They joined in creating a four-day event unlike anything we have yet experienced. We did not even know how many people were involved until we arrived, but as soon as we saw what they had to offer and how excited they were to share, it was instantly agreed that they should be our people of the day.
Of course, before we mention anyone else, we have to thank (again and again and again) our hosts, DIA's Diwan el Shabab, and especially Emad and Emmanuel, for all that they have done and continue to do. We also salute the Palestinian Ministry of Youth and Sport for welcoming us with such open arms.
So, in alphabetical order, we would like to thank our friends from Adwaa Design

, Modern Electric Company (MECo.)

, PC-World Corporation

, and Pizza Land.

Mr. Emad Eshargawi, of Adwaa Design, did the layout for and printing of the poster and invitation announcing BikeAbout's presence at the Diwan while in Gaza.
The whole team at MECo. has already helped us in many ways, on many occasions, and throughout Gaza. By providing the use of two brand new Compaq desktops (MECo. is an authorized Compaq dealer) for presentations, translating, offering technical assistance, and indulging in excellent conversation and cultural exchange, the worldly and capable MECo. team showed its true colors again and again. Special thanks go out to the Abu-Ghazaleh brothers (the indefatigable Samer

and Muneeb, who is the company's General Manager), Ashraf and Mohamed

, and everyone else . . .

Mr. Nasser Tawfik, owner of PC-World Corporation, and Mr. Samir H. Saqqa, owner of Pizza Land, were also generous with their time, energy, and corporate philanthropy. PC-World Corporation will be used as one of the two places from which the Wednesday Chat 'n' Debate will take place. Pizza Land hosted a welcome dinner for everyone on the night we arrived. Pizza Land will also have us over for another dinner after the Chat 'n' Debate. Mr. Nasser and Mr. Saqqa are seen here, on the left and kneeling to the right, respectively, with some colleagues and andrEa.

A heartfelt choukran to everyone. We look forward to seeing you again one day.

Place of the Day: Khan Younis


Khan Younis is the second city of the Gaza Strip (after Gaza City) and home to the second largest refugee camp (the largest being in Jabalia, which we will have an opportunity to visit tomorrow).
While there is nothing particular to report about Khan Younis (since we didn't see much of it) or the refugee camp (since we didn't go into it), today is the tenth anniversary of the beginning of the Palestinian intifadah (rebellion) which began in the Gaza Strip and was shared by all Palestinians. This is therefore a good time to understand a little more about the history and statistics of Gaza in the context of the Palestinian people's struggle for recognition.
Our brief look at the modern history of Palestine must take into account how, as a result of forty years of international politics and interstate antagonisms in the Middle East, an enormous number of people, mostly Palestinians (750,000 after 1948 and some 500,000 more after 1967), were displaced. Fortunately, for a while, the international community devoted considerable time and effort to alleviating some of the daily life and political problems presented by such a sudden explosion in the numbers of Palestinian refugees. (Even today, the United Nations' General Assembly continues to renew affirmations about the importance of a peaceful settlement in the area that includes "the exercise of the inalienable rights of the Palestinian people.")
However, by the late 1980s, after forty years without an international consensus on or any real concrete results in Palestine, frustrations came to a head. On December 9, 1987 (ten years ago today!), as a result of an incident in Gaza, a spontaneous protest began in Gaza and was followed by others in the West Bank. Today, these uprisings are known throughout the world as the Intifada. As described in documentation prepared by the United Nations, "Palestinians from all walks of life — youth, merchants, laborers, women, and children — have since been involved in massive demonstrations, economic boycotts, strikes, tax resistance and stone-wielding protests." The families of today's 746,050 (June 1997) registered Palestinian refugees living in the Gaza Strip (representing approximately 75% of the total population!) and the 542,642 living in the West Bank, led by Yasir Arafat and the Palestine Liberation Organization (PLO), brought international attention to an embattled land.
Israeli response to the Intifadah was unyielding. Again, citing UN-prepared documents, reports were submitted chronicling "severe measures, including the use of live ammunition against demonstrators and punitive beatings . . . Well over 1,000 Palestinians have been killed and tens of thousands injured during the Intifadah. Thousands of Palestinians were detained, thousands transferred to prisons in Israel, and many deported from the occupied Palestinian territory. The reports described instances of maltreatment and torture in jail, lethal use of tear-gas, excessive use of live ammunition, beatings and other severe measures. The occupation authorities had also increasingly resorted to various forms of collective reprisal, such as demolition of houses, imposition of prolonged curfews and restrictive economic measures." In addition to all of this, schools and universities were closed, social services drastically limited, media outlawed, and trees and crops destroyed.
However, a step toward resolution was taken soon after, despite the contentious nature of that step. In July 1988, the Palestine National Council, still under the direction of PLO Chairman Yasir Arafat, issued two ground-breaking documents: a political communiqué confirming a desire to pursue negotiations according to UN principles (thus renouncing terrorist activities); and a Proclamation of the Independence of the State of Palestine with Jerusalem as its capital (significant also because it recognized the existence of the State of Israel).
Since then, tireless efforts have been made by the international community to push, sponsor, and mediate talks between the various parties in the Middle East. And in August 1993, public announcement of secret negotiations held in Oslo, Norway, between Israel and Palestine gave new reason for hope. The Israeli Prime Minister at the time, Yitzhak Rabin, and Arafat publicly shook hands and paved the way for Palestinian self-rule. (Many sensitive issues — Israeli settlements, control of Jerusalem, return of Palestinian refugees, future boundaries, and the status of Palestine — were slated to be tackled in later negotiations.) Unfortunately, in 1995, Prime Minister Rabin was assassinated and the pace of the peace process slowed significantly. In fact, ever since the assassination, the political climate in Israel and in the territories under the administration of the Palestinian National Authority (the Palestinian interim government) has not been good or productive. For example, most Gazans, although recognized citizens of a Palestinian entity and now in possession of Palestinian passports, are still not allowed to leave Gaza and do not have the right to let their voices be heard through a democratic voting process they desire.

Group Dispatch, December 9


Until this very morning, we were not at all sure if there would be any activities today. December 9, 1997, marks the tenth anniversary of the beginning of the Palestinian uprising, known throughout the world as the Intifada and there was the possibility that a holiday would be called. This did not turn out to be the case. Instead, Emad arrived in the morning and told us we had two early visits — the Alhayat Aljadedah newspaper and the Palestinian Model Parliament: Women and Legislation — followed by our first non-Diwan presentations at two separate locations in Khan Younis (see the Place of the Day), the Gaza Strip's second city some twenty kilometers to the southwest.
So before noon we piled into the DIA mobile with Emad, Emmanuel, the new friends we met last night (Eric

and Jean-Charles

hailing from DIA headquarters, and Mohamed Elamin, a friend of theirs.
Our first stop was at the offices of the Alhayat Aljadedah, or New Life newspaper (www.alhayat-j.com/). Mr. Khaled Abedalla, a young journalist and playwright who handles the cultural affairs section of the paper received us. He talked to us about media in the Gaza Strip and the role of Alhayet Aljadedah in the lives of Palestinians. This paper, with a circulation of approximately 10,000, is only a few years old, but can boast a devoted readership and motivated staff committed to sharing more than just the political news of the day. Writers, poets, cartoonists, and many others vie for opportunities to publish pieces in Alhayat Aljadedah and spread word of the social and cultural revival that many are fostering in Palestine. Mr. Abedalla himself is one of the first Palestinians to have written a play about contemporary life in Gaza. [Note: It was produced starting on February 16th in Gaza City and then went on the road to foreign cities.]
A sad and interesting note about culture in Gaza is that there are neither theaters nor real concert halls nor even real cinemas in the Gaza Strip. For many years during the Israeli occupation, assemblies of any sort were discouraged so there were no plays, concerts, or movies. And, as a result of infrastructural damage over the years, today there are still no public arenas in which such events can be held other than private homes or youth centers like Diwan el Shabab or Gaza's new cultural center. We hope that this will change soon.
Mr. Abedalla, reflecting on life in Gaza today (and thinking about the Intifada that is still fresh in the memories of so many of Gaza's young adults), talked a little about some of the things that get discussed in his newspaper, especially in the section on society and culture. He talked about how Palestinian society is experiencing pulls from very different directions, many of them closely associated with where and how one lived one's childhood. On the one hand, there are those who, born or registered refugees in Gaza, have lived through the Israeli occupation and the Intifada and often in more traditional Palestinian environments. On the other, there are also those who have recently returned from abroad and did not experience either the more classic Palestinian upbringing or the tumult of the uprising and suppression. These two currents — typified in some ways by women who must make a decision about wearing a head scarf — are at work on a society that is in search of itself. Who knows what the result will be?
Following this experience, we traveled a short distance to the Palestinian Model Parliament: Women and Legislation. Ms. Nahed Abu Ta'imah

, director of the non-governmental organization forum, brought us into a room with a large table and many colorful posters

and shared information about her organization and the challenges faced by women in Gaza. We learned about the Parliament's work with women in three areas: media and information, negotiation, and volunteer work.
Basically, the feeling is that through volunteer work and information dissemination, the thoughts and activities of Palestinian women can be unified and then law can be used to solve problems unique to women. Women must know the law and know how to use it to their advantage. The problem with this is that, despite having a constitution, a Ministry of Justice, and a legislative council with proscribed procedures, Palestine does not have a single body of law. The West Bank, formerly under Jordanian administration, does not have the same laws as Gaza, which was formerly under Egyptian influence. Thus, a great deal of legal research is underway to define laws that reflect the needs of Palestinian women throughout Palestine by finding facets common to the two legislative systems under which they live and bringing them before the community and government.
Through lobby groups, roundtable discussions and workshops, model parliaments, volunteer work at universities, and posters, Ms. Ta'imah and her colleagues have been making strides. She admits that the current political and social climate in Gaza is not ideal for the work they are doing — women currently in positions of power are not fighting the way they could, while young people do not realize that change is brought only through proactive and participatory engagement — however the work moves ever forward.
One poster — their most successful — to which she called particular attention when she was talking about the poster campaigns



depicts a woman holding her hand over one eye.

The Arabic can be translated roughly as, "You see me with only one eye, but I can see with both." In Arabic, the meaning is more clear and nuanced, communicating a number of things, such as: too many (unimaginative) people, men and women alike, see women through only one eye (that is, as two-dimensional and without imagination), but actually women can and do use both eyes (are complex and deserving of respect, and capable of seeing others the same way).
As we pulled away from the Women's Parliament building

, we knew we were running behind. We had not yet had lunch or made our swing by MECo. to coordinate with their team about setting up desktop computers for the afternoon presentation. So, we hastened off to a quick lunch of delicious humus and omelettes, back to MECo., and then off to Khan Younis (see the Place of the Day).
We arrived late at the College of Education but found patient groups of interested people waiting for us. The MECo. team immediately set to work setting up

one of the two new Compaq desktop computers they had made available for our presentations.

Unfortunately, it took longer than usual since the phone line in the classroom where we began our work was not a direct line. Ultimately, the computer had to be moved to the principal's office for later display. Ethan and Corinne nevertheless began their presentation.

Meanwhile, Anthony and andrEa carried on with Emad to the Khan Younis Services Center's Youth Sport Club for a simultaneous presentation there. (There was even a third presentation planned but because we were running so late, it was canceled.)
The presentations were quite interesting and a mix of experiences. While the overall structures were the same as those of our previous meetings in other countries — a BikeAbout overview presentation, followed by an introduction to the Internet as BikeAbout sees it, and then a formal cultural exchange question-and-answer session, and, time permitting, an informal exchange and play with the computers — the content was very, very different.
At the College of Education, an assembled group of English-speaking students and professors listened to our introduction and were quickly engaged in an intense conversation about life in Gaza, Palestinian hopes and concerns for the future, some politics having to do with the role the U.S. has played in Middle East affairs, and a lot of good will. Again we heard about the frustrations that all Palestinians face about their inability to travel and subsequent loss of dignity. We heard amazement expressed about how little the everyday person in many countries around the world really knows about the plight of the Palestinian people (refugees and non-refugees) and the oppressive political climate in which they live. "Why do people think we are all terrorists?" we were asked. "How are we going to change this opinion if we are not allowed to express ourselves and tell the truth?" "Will you tell the truth?" We think we are. We hope that this helps.
andrEa and Anthony had a similarly rich encounter but with a less lively group that focused on the political questions BikeAbout has never claimed it could answer. All we could do — all that we can ever do — is express our opinions and make clear that opinions around the world vary, that not every American represents the American political system or agenda. Similarly, we think it is important for everyone to understand that it is impossible for any one person (except perhaps for a country's leader) to stand as fully representative of his or her country's politics. The more individuals reach out to other individuals and learn the truth, correct false impressions, break down barriers, and destroy stereotypes, the more we will all learn to see eye to eye on matters that are near and dear to us, like peace and security.
This is, of course, what we have learned. And the message we have been trying to convey. As we have traveled from place to place and confronted situations that we were warned might be dangerous, we have gone in with open minds and good intentions. And we have always been welcomed, made to feel safe, and then asked to stay longer. It is always with the greatest regret that we have had to pull ourselves away from places where extended stays could be even more rewarding.
Back at the presentations, Corinne and Ethan switched rooms and gears to demonstrate the Internet using a live connection. Samer and Ashraf of MECo. had been working to coordinate with one of their colleagues at the other presentation. They were hoping to get a live audio link open between the two groups of presenters and to show some of its potential. This proved more difficult to accomplish than we had thought, so we used a chat area to communicate between groups for a while as the formal nature of the presentation became increasingly informal and fun. For more than an hour we shared thoughts with small groups of students and teachers, showed off our Web site and Comaq computers, recorded some messages for our words of the day (here

the whole group wishes us a lively "Welcome to Gaza!") and made some excellent with new friends.



After the presentations, a light rain began to fall, much to the joy of everyone gathered with us. Apparently, it had been too long without a good rainfall (which explained the high dust levels we experienced when we cycled into the city) and drought conditions were feared. Farmers have been going to their mosques to pray for rain.
So, excited on behalf of the farmers, we packed the computers and ourselves back into the cars and drove a short distance to Rafah. Emad had arranged with one of his brothers for a maftoul feast (see the Food of the Day). And boy was it fantastic. An abundance of food and good spirit like we have not seen in a very long time.

During the meal, we learned an interesting factoid: Families in Gaza stay together by building their own family buildings, assuming that the financial and material resources are available. For example, the brothers in Emad's family have over the years added floors with separate apartments to the smaller structure in which their parents lived. As a result, a multi-story building now stands as a testament to the strength and prosperity of the family. We identified similar such structures in other places when we learned that the address of some buildings in Gaza City is no more than the family's name.
After the copious meal, we piled back into the DIA amphibious vehicle and drove slowly through the rain and road-width puddles back to the Diwan. Another long and rewarding day had drawn to a close.

Questions? Ask Ethan

!
---
---
| | |
| --- | --- |
| | Internet access while in Palestine was provided by PalNet. Internet access while in Gaza was arranged by PalNet's representative in Gaza, Modern Electronic Company (MECo.). |
Copyright 1997-2004 BikeAbout. All rights reserved.