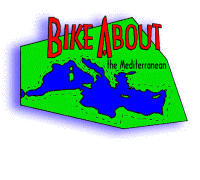 Corinne's Packing List
as of October 3, 1997

Personal Clothes

1 black t-shirt
1 long street shorts
2 sewn boxer shorts
1 pair tights
1 pair jeans
1 set silk long underwear
2 sports bras
2 regular bras
4 pair socks
6 pair undies
black hightops
white canvas flats
baseball hat
2 pair sunglasses



Cycling Clothes

4 bike jerseys
1 long sleeve bike jersey
windbreaker jacket
click pedals & shoes
2 tight bike shorts
1 baggy bike shorts
bike gloves
fanny pack
helmet w/ visor



Personal Stuff

sleep sheet sack
sunscreen
aloe vera gel
baby wipes
toothpaste, brush, floss
vitamins and allergy meds
aspirin and other goodies
moisturizers galore
mini tissue packs
2 sticks deodorant
tiger balm
toilet paper
shampoo
makeup
sleep mask
ear plugs
soap
curry spice
a spoon
legal pad, pens, markers
mini notebook & post-its
postcards & stamps
family photo
business cards
credit cards & ID
passport/money belt
address & phone number lists
folders for all sorts of papers & disks
book on selling magazine articles



Bike Stuff

2 water bottles
2 tire pumps
tools, patch kit, spare tube & parts
gallon sized plastic zipper bags
big old garbage bags
bungee cords & bubble wrap



BikeAbout Stuff

BikeAbout written information & posters
lonely planet books
computer power pack, cables & cords
video camera, manual, & MANY accessories
digital still camera



Stuff in the B.O.B. Sack

videotapes & tripod
2 computers
1 protective case
medical kit
backpack for daytrips



Want to know what the other riders are carrying?
---
---
Copyright 1997-2004 BikeAbout. All rights reserved.