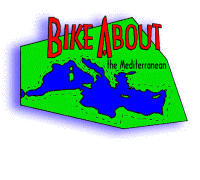 Stuff in the B.O.B. Trailers
as of October 7, 1997
1 Ortlieb large
RackSack
2 Compaq computers
1 Pelican protective case for the computers
1 Iomega Zip drive
1 large Adventure Medical first aid kit
1 extra tire for the bikes
1 extra tire and tube for the B.O.B.s
1 water purifier
tripod or video tapes and cables
chain whip (bike tool) or extra chain
extra rear derailleur or bike grease
1 extra water bottle



Want to know what the riders are carrying?
---
---
Copyright 1997-2004 BikeAbout. All rights reserved.