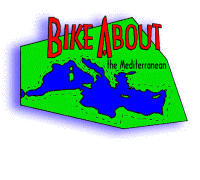 Anthony's Packing List
as of October 7, 1997

Personal Clothes

4 shirts
1 t-shirt
2 pair pants
1 pair of shorts
4 pair underwear
3 pair socks
1 jacket
1 belt
1 pair swim shorts
1 pair sandals
1 pair of shoes



Cycling Clothes

3 pair bike shorts
2 cycling jerseys
2 pair bike socks
1 pair bike shoes
arm warmers
leg warmers
rain jacket



Personal Stuff

shaving kit
spare contacts/contact solution
razor, spare blades, shaving soap
toothbrush/paste
pain pills and multivitamins
sunblock SPF 30
French Dictionary
Spanish Dictionary
Voyage au Centre de la Terre (Jules Verne)
El Principito (Antoine de Saint-Exupéry)
La Méditerranée (Fernand Braudel)
Ivanhoe (Sir Walter Scott)
Spanish/French Verb Conjugation Books
photo ID
pen & pencil
notebook



Bike Stuff

1 helmet
1 compass
1 flashlight
electrical tape
assorted zip ties
Tool Kit:

8, 9, 10 mm box-end wrenches
multi-screwdriver
headset wrench
patchkit
1, 2, 3 mm Allen wrenches
cassette lock ring remover
3 tire irons wrapped in Duct tape
2 brake cables
1 shifter cable
1 bottle chain lubricant
various bolts, nuts-small bike parts
Gerber CoolTool
Leatherman SuperTool & Micro-Tool
1 spare tube




Want to know what the other riders are carrying?
---
---
Copyright 1997-2004 BikeAbout. All rights reserved.