topics: agriculture, Hollywood films, cinema, "STAR WARS," "troglodyte" (cave) homes; jump to dispatch
BikeAbout Log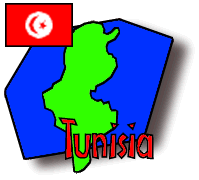 Rider Notes: November 3, 1997
Breakfast: After a well-deserved night of recuperative sleep, everyone was starved. Anthony and Padraic went out into the city in search of a filling meal and came back with a flat, round, almond bread almost 18 inches (45 cm) in diameter. It was delicious. With yogurt and pomegranates on the side, it was perfect.
Lunch: There was one big difference between this chicken sandwich and others that we have had: a whole quarter chicken, skins, meat AND bones was stuffed into a half a baguette!
Dinner: While andrEa and Corinne remained at the Centre des Jeunes, Ethan, Padraic, and Anthony went back to their favorite restaurant (the only one they knew) and feasted on more briks, spaghetti with meat or shrimp, stuffed bell peppers, and dates (for dessert — see the Food of the Day). On their way back to the Centre, the guys purchased yogurt that the ladies had requested.
Food of the Day: Dates

Originally from the Persian Gulf, the date, a fruit picked from the date palm, grows in clusters that hang from the central stem of the tree. Today, cultivated throughout North Africa and Arabia, only a few varieties ever make it to Western markets. A versatile fruit, the date is used in North African cuisine in tagines (both Moroccan and Tunisian), sweet couscous, and curry dishes, as well as in sauces and as a stuffing for fish. But the most common use of the date is as a standalone fruit. Some of the most notable are the deglet nour date (or "fingers of light"), the makroud date (specialty of Kairouan), the smooth-skinned nutmeg date (sweet but with a dry aftertaste), the halawi date (very sweet), and the khalesh (highly fragrant). Dates are found and sold in great abundance in the arid parts of southern Tunisia.

Tech Fact of the Day: Tunisia is a shoot location for both foreign and Tunisian films


Using its proximity to Europe, its quality cinema production services, its mix of climates, its excellent variety of magnificent and exotic scenery (from Saharan desert to Mediterranean green to mountainous), and its famously hospitable people, Tunisia has turned itself into an excellent resource for international cinematographers.
Some of the most famous foreign films and their directors include: "The English Patient" by Anthony Minghella, "Star Wars" by George Lucas, "Raiders of the Lost Ark" by Steven Spielberg, "The Messiah" by Roberto Rossellini, "Toscanini" by Franco Zeffirelli, "Madame Butterfly" by Frederic Mitterand, "The Life of Brian" by Monty Python, and "Pirates" by Roman Polanski.
Of course, Tunisia has some of its own world-famous directors and award-winning films too, and a special relationship to its own cinema. The history of Tunisian cinema stretches back to the second decade of the 20th century, but it was only in the late 50s and early 60s, helped by Mr. Tahar Cheriaa — the "father of Tunisian cinema" and one of Tunisia's greatest film enthusiasts — that cinema really caught on. Today, it is a vibrant and well-respected industry. Some of its most important directors include Omar Khlifi, Ali Mansour, Ridha Behi, Mahmoud Ben Mahmoud, Naceur Khemir, and Nacer Ktari. Worthy of special mention is Ms. Moufida Tlatli, who won a 1994 special prize at Cannes for "The Silences of the Palace."

Person of the Day: Obiwan Kenobi


Obiwan Kenobi, one of the last of the Jedi Knights (and Luke's mentor) was first encountered by Luke Skywalker on his home planet, which, as far as we are concerned, might as well be Matmata. We all know what happens next . . .
The BikeAbout team first came across "Old Ben" Kenobi on a quiet afternoon as they were wandering through the souks (flea markets) of Gabès. Padraic "R2D2" Kennedy was admiring a multicolored carpet when a Jawa salesperson jumped out from behind a pillar and tried to roll Padraic into a rug.

Ethan "C3P0" Gelber, caught unawares as well, tried in vain to negotiate for his release in as many languages as he could. Simultaneously, a small army of taxi "Imperial Storm Trooper" drivers took position at the end of the street (led, of course, by the evil BikeAbout Webmaster Elizabeth "Darth Vader" Guffey) and cornered Anthony "Chewbacca" Ziehmke and andrEa "Han Solo" Siegl. Throwing broken spokes from the back wheel of Anthony "Chewy"'s Wheeler "Rebel X-wing" 4700, they valiantly kept their adversaries at bay, thus allowing Corinne "Luke" Whitney, bike "light saber" pump in hand, to discover the power of the Force.
Corinne, as if on the edge of a deep sleep — eyes closed, lips quivering in concentration, drool appearing at the corner of her mouth, and hands held imperiously overhead — reached out with her thoughts to the invisible currents at work in all things, and . . . called for "Old Ben."
It was at this moment that, like a phantom, Obiwan appeared. Out of nowhere he came, glowing, wrapped in a magical light. With his own light saber flashing, Obiwan quickly dispelled the encroaching Storm Troopers, led Padraic to safety, and brought Corinne back from the edge of what looked like a long afternoon sleep.
The team invited the spectral hero to drink a coffee in the famous Mos Eisley Cantina (see the Place of the Day)

and there learned that, now one with the Force, Obiwan was still traveling the galaxy. Just like the BikeAbout team!

Place of the Day: Mos Eisley Cantina of the Sidi Driss Hotel, Matmata


Today we visited Matmata

, the community 44 km (27 mi) south of Gabès, and one of the places used in the filming of the first released "Star Wars" episode (actually episode three) back in 1976-77. (For more about movie making in Tunisia, see the Tech Fact of the Day.) Matmata was selected for the abundance of "troglodyte" (cave) homes typical of the area.
Of particular interest today is the Sidi Driss Hotel, a converted troglodyte dwelling (see below), which was apparently used in the filming both of the famous Mos Eisley Cantina "bar" scene (where the movie first introduces Han Solo) and as the Skywalker residence (where Luke lived with his aunt and uncle) on their home planet. (Special note: The name of Luke's home planet is the same as that of an important city in southern Tunisia. Can you tell us which one it is?)
Unfortunately, the cast and crew of "Star Wars" did not leave behind a city full of friends. Not only did the people of Matmata not see the movie until long after it came out, but according to the owner of the Mos Eisley Cantina (the bar of the Sidi Driss Hotel), the film makers neither thanked the people of Matmata nor recognized their role in the movie. Trying to do their part to mend fences, the BikeAbout team would like to enthusiastically thank the people of Matmata for their contribution (both to the movie and to our ongoing adventure).

Group Dispatch, November 3


once lived at one with the Force of nature and in peace with their surroundings. That is . . . until a series of "imperial" forces swept through their lands and subjected them to the control of superior external forces. The ragtag band of Berbers, a diverse people of mysterious origin, had settled the land thousands of years ago, but left little written trace of the lives they lived. This dispatch then, is a fanciful look at the fights they fought against the continuous waves of intruders. It stars, of course, our intrepid team of five: Corinne "Luke Skywalker" Whitney and her faithful 'droids Padraic "R2D2" Kennedy and Ethan "C3P0" Gelber, and the gallant hero andrEa "Han Solo" Siegl accompanied by her not-at-all-hairy Anthony "Chewbacca" Ziehmke.
Our story finds Corinne "Luke," Padraic "R2D2," and Ethan "C3P0"

on a trip through strange lands in search of the mercenary cyclist andrEa "Han Solo" and her trusty, grunting, pedaling companion, Anthony "Chewy." Rumor had it that they could be found at Matmata's Mos Eisley Cantina, reputed to be "the slimiest, greasiest den of iniquity and space scum in the galaxy." (This turned out to be true — most of the clientele were holding stuffed camels and drinking schnapps.)
Having been brought to this land by their Wheeler "Rebel X-wing" 6700 bicycles, Corinne, Padraic, and Ethan decided to leave their standard steeds and sample the local mass transport system (see pictures:


). One "vehicle" in particular struck Corinne as unusually attractive and she named it "Princess Leah" after an old friend that she had not seen in quite a few years.

But the local transport operators were on a lunch break and could not be pried away from their meals. The three adventurers were left to walk the full distance to their dangerous destination.
The Mos Eisley Cantina (see the Place of the Day), located in the Sidi Driss Hotel, is found at the bottom of a hole.

And a big hole at that. In fact, most of the dwellings in this remote southern town are "troglodyte" or underground homes.

Extensive networks of underground rooms connected to sunken courtyards dug 25 or more feet (8 m) into the ground, these unusual rabbit warren dwellings were originally hiding places and fortresses for local "rebel" Berber tribes. (Over the centuries they fled from "Imperial Storm Troopers" of all ilk: Phoenicians
, Carthaginians, Romans, Byzantines, Vandals, and Beni Hillal Bedouin/Arab hordes.) When the Berbers removed the ladders needed for climbing down into the holes, they were safe. During peaceful times, these dwellings were also used as homes — warm during the winter months and comfortably fresh during the summer. The rooms are usually completely whitewashed and the furnishings often consist of no more than niches in the shape of chairs or tables carved out of the rock walls of the cavern-rooms.
Sure enough, at the Cantina, Corinne found andrEa "Han Solo" and Anthony "Chewy" . . . and the real beginning of the day's adventure. andrEa was busy arguing about some business transaction with the same gun-wielding Jawa that had jumped Padraic back in the souks of Gabès.

That conversation was quickly brought to an end as soon as the obviously non-locals entered. andrEa, turning to one of the locals and demonstrating her levitating pomegranate trick

, pretended to ignore the threesome, waiting to see what would happen.
As could be expected, the unsuspecting Corinne "Luke" accidentally stumbled into the back of a swarthy and uncouth mercenary and found herself faced with his full hairy fury. Fortunately, Anthony stepped forward at that point, averting any troubles for the moment. So, while andrEa and Corinne sat down to business and discovered a mutual dislike for meat-filled dishes, the three sidekicks, Anthony, Ethan, and Padraic, went on a quick tour of the area.

Ethan "C3P0" remarked to Anthony "Chewy" that he was not as hairy as most Wookies, which seemed to hit a nerve. Before choking Ethan

, Anthony attempted to throw him in a "troglodyte" home. If Padraic "R2D2" had not interceded, there might be one fewer 'droid to help Corinne save the day when the time comes. Remember, it's never a good idea to discuss personal hygiene with a Wookie.
Anyway, after a half an hour or so, andrEa appeared on the surface and announced that Corinne had been abducted by "imperial" spies lurking in Mos Eisley. andrEa, not certain where Corinne was being held captive, searched the horizon for clues.

Ethan, Padraic, and Anthony meanwhile asked for help from three passing ladies

who, furtively looking back, nervously and mysteriously hurried by.

Then, looking down into a nearby hole, the four of them espied poor Corinne, trapped behind what could only be a horrible instrument of torture strapped to her face!

Racing back underground, everyone made an attempt at rescuing poor Corinne. The room in which she was trapped could only be reached by scaling a difficult wall. First Ethan tried

, but without success. Then Padraic too, but his R2D2 shape was not appropriate to climbing. Even Anthony tried, but he was just too big and clumsy. Only andrEa could manage. Displaying unexpected and incredible spider powers, andrEa crawled straight up the wall

, pulled Corinne from captivity, and helped her back down to the floor

, saving the day.
Back in Gabès, a city which did not have much in store for the group, everyone settled down to an afternoon of rest, writing, and preparing for the following day's long trip to Djerba. There was bit of a hubbub when the director of the Centre des Jeunes, no doubt acting under the orders of the "Imperial Senate," mildly mistreated them. Fortunately, the Death Star was not yet within range and our intrepid heroes escaped unscathed, but the youth of this far-flung outpost were unable to learn about the wonders of the Force or the benefits of an alliance with the rebels (or about the Internet or BikeAbout).
Nevertheless, imagine, if this was their first day together, what kind of fabulous adventures lie ahead for the fearless fivesome . . . as long as Anthony remembers not to throw Ethan into a hole!

Questions? Ask Ethan

!
---
---
Copyright 1997-2004 BikeAbout. All rights reserved.