topics: tortilla con queso (food), Algeria, Melilla, border crossing; jump to dispatch
BikeAbout Log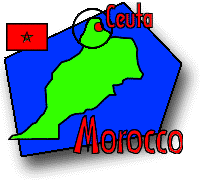 Rider Notes: October 11, 1997
Breakfast: We stopped in the only place open at such an early hour and bought every pastry and loaf of bread available. Again, we hoped to fill up with carbohydrates for the long ride ahead.
Lunch: The heat and the difficulty of the ride made us uninterested in lunch. We only wanted water (see the Tech Fact of the Day). Between the five of us, we bought and immediately drank seven and a half liters of water — that's nearly two gallons! We supplemented this with more bread and some cookies.
Dinner: Having re-entered Spain, we decided to splurge on a favorite food that we haven't been able to find anywhere in Morocco: pizza! After a couple of egg-and-cheese sandwiches as an appetizer (see the Food of the Day), we ordered seven (smallish) pizzas for the five of us — two plain cheese pizzas and then five more with a variety of toppings, everything from tuna fish and egg, to hot salami, artichokes, ham, bacon, and peppers.
Food of the Day: Tortilla con queso (egg-and-cheese sandwiches)

In Spain, this simply means an omelet with cheese. In this case, it was an omelet-with-cheese sandwich served hot from the griddle. Although very simple, it hit the spot.

Person of the Day: Small boy in Cabo Aqua who gave us water


Everywhere we stopped in Morocco, we attracted a crowd of kids. Most of them just stood and stared at us, but some tried to give us a hand. Today, while we were stopped for lunch at Cabo Aqua, a young boy, seeing how hot and thirsty we were, picked up one of our empty plastic jugs, ran home and filled it up with cold water for us. Although he was too shy to be photographed and we never found out his name, his kindness makes him our person of the day.

Place of the Day: "Valley of Death" between Cabo Aqua and Cariat Arkmane


We dubbed the 35 km (22 mi) between Cabo Aqua and Cariat Arkmane the "Valley of Death" because the road constantly dips down to the sea and then climbs back up hundreds of meters. We counted 18 separate hills! Another reason for calling this the "Valley of Death" is the total lack of shade. Other than what was provided by scattered buildings, the only shade worth talking about came from a few small bushes or rocky overhangs. The hills made us want to stop and rest, but the lack of shade meant that stopping would only make us hotter. At least there is a small breeze when you are riding.

Group Dispatch, October 11


Because the civil war in Algeria has made it too dangerous a place through which to travel, we had to turn around at the border and cycle back the way we had come two days before. The conflict in Algeria has claimed tens of thousands of lives over the last five years, and many of the dead have been victims of random terrorist attacks. With hopes that this terrible war will end soon, we took one last regretful look at Algeria . . . and began our ride back along the coast road to Nador and on to Melilla where we would catch a ferry to begin our roundabout trip to Tunisia.
Because we had to wake up the hotel owner to rescue our bikes from a locked room, we got a later start from Saidïa than planned. Unfortunately, this put us on the most difficult part of the ride during the hottest hours of the day. And it was hot. Africa hot. The temperature reached over 90° by 10 a.m. By noon, when we hit a long hilly stretch without any trees or any shade at all (see the Place of the Day), the heat became almost unbearable. The guys reached the appointed meeting place in Cariat Arkmane, 25 km (15.5 mi) from Nador, at 2 p.m. and crawled into the shade of a building to drink six and a half liters (seven quarts) of water and Crush between them (a lot considering they had just helped drink seven and a half liters only two hours before). andrEa and Corinne showed up later. Having run out of water (see the Tech Fact of the Day), they had sensibly taken a taxi for the last few kilometers.
After we drank as much water and juice as we could afford to buy (we were running out of dirham), we pressed on. Now the problem was not so much the heat, but the impending darkness. We had only a couple of hours to ride the 38 km (24 mi) to Melilla before sunset. Luckily the hills ended and the road improved. Even the most tired among us reached the border just as the first stars began to shine. We had made it! But now we had to negotiate the border crossing.
Because many Moroccans work in Melilla or travel through this Spanish enclave on their way to the Spanish mainland, the border between Melilla and Morocco is one of the busiest we've ever seen. Even at 6 p.m., hundreds of cars, mopeds, bicycles, and pedestrians were converging on the narrow street that connects the two territories. We followed the other bicycles as they zoomed by the waiting cars, but we were stopped at a hut where we had to fill out disembarkation slips and get an exit stamp.
Usually this is a simple process that takes about 20 minutes. It took a little while longer today, mostly because we made the mistake of taking the video camera out of its case. We hadn't intended to take any footage, just to repack it more carefully, but the guards immediately ordered us to put the camera away and the border officials began to ask prying questions about what we were doing with a camera. Evidently they suspected us of being journalists (or spies?). Because the border is a military outpost, you are never allowed to film there without special permission. We soon managed to convince the officials that we were simple IJs who had no intentions of filming and they let us through the border with smiles and waves.
Mahas-salama Morocco! Thanks for the hospitality!
In Melilla, we parked our bikes in the central plaza and dropped into "Anthony's Pizza" (how could we not eat there?) for some tortillas (see the Food of the Day) and some take-out. We then returned to the bikes and cycled off to board a ferry to Spain, waving goodbye to Africa for a few days.

Questions? Ask Padraic

!
---
---

Internet access and Web hosting while in Morocco were provided by AzureNet.
Copyright 1997-2004 BikeAbout. All rights reserved.