topics: pastilla (food), Internet access, cultural exchange, Mediterranean Sea, daily life, taxis, wildlife; jump to dispatch
BikeAbout Log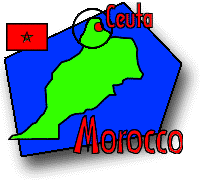 Rider Notes: October 10, 1997
Breakfast: We had the standard light continental breakfast to which we are becoming accustomed. This time the pastries included a pastry-dough puff with an almond paste inside.
Lunch: Finally, after many days of riding or staying within sight of the coast, we managed a few hours of relaxation on an actual beach RIGHT NEXT to the water.

We were so excited that all we did was swim and drink up the sun. We never even realized how hungry we were.
Dinner: Since we were between meetings, all we had time for was the familiar Moroccan sandwich — stuffed full of salami, hard-boiled egg, lettuce, tomato, and french fries.
Food of the Day: Pastilla, or pigeon pie

We read and were told about the pastilla, a pigeon pie made with layered ouarka pastry, which is a common phyllo dough. The pigeon-meat pastry is flavored with nuts and spices and then baked with a covering of sugar. We asked for it in many places, but never found any. We still thought it deserved a mention here since it was recommended so highly.

People of the Day: Mr. Mohammed Allal and Mr. Najib Bachiri

Mr. Mohammed Allal and Mr. Najib Bachiri are two of the primary forces behind the Centre of English Self-Access Material, or CESAM, in Berkane. Both teach English in the community and speak it with impressive fluency. They are enthusiastic and believe firmly in what they are doing. The success of the Centre is perfectly understandable in light of the pride and care that they show in how they manage it.
Ethan, Anthony, and Padraic crossed paths with Mr. Allal by chance at AZ Micro (see the Group Dispatch) and arranged to meet later with him and Mr. Bashiri at the Centre. All five talked openly about the school, the importance of learning foreign languages, the notions of culture and cultural literacy, and about how the Centre and BikeAbout were working in similar ways to deal with these issues.
Mr. Allal and Mr. Bashiri also conducted an interview of all three of the BikeAbout riders about their trip. This will appear in an upcoming issue of Chalkface, the Centre's magazine for English teachers. Padraic also agreed to write a short article for the same magazine dealing with some of the issues in greater depth.
The warmth and openness with which Mr. Allal and Mr. Bashiri welcomed BikeAbout to the Centre seems very much a part of their character. They are wonderful people whose work deserves great credit. We hope that many students and teachers will write letters and email to them (see the Place of the Day for their address and email), opening the doors to a rich exchange with their English-speaking students eager to improve their skills, learn about the world, and share information about their own lives.

Place of the Day: Centre of English Self-Access Material



It was evening so we did not get a chance to see the Centre of English Self-Access Material, or CESAM, as it should be seen: full of students and volunteers. However, it is not hard to imagine people of all ages gathered around the large table, reading through English books and magazines, listening to English-language cassettes, watching English videos, and working at the computer to write articles for the Centre's two English-language publications.
We did, however, get a chance to enjoy a moment away from the bustle of the street in a quiet discussion with the Centre's coordinator (see the People of the Day) about the importance and role of the Centre in Berkane. Housed in the building that used to contain the oldest school in Berkane, the Centre consists of a big room with shelves full of resources on all sides. Most of these materials have been acquired as a result of relationships with the Peace Corps, the United States Information Service, the British Consulate, and some private resources.
The Centre was started when teachers and students in Berkane saw a need to support the continued study of English. French is the foreign language most commonly studied in Moroccan schools in Berkane, and it is also used quite frequently as a living language in the streets. But English does not enjoy this kind of support, so the center was formed, mostly as an after-school base for students who want to pursue their studies of English.
Of particular interest are the two publications created out of the Centre that enjoy a growing national audience! The first, Chalkface, A Moroccan Journal of English Language Teaching, is an English-language magazine written for teachers of English. According to an editorial, "Chalkface is a metaphor of the 'sweat 'n dust' you experience daily in your noble craft of educators." The first volume, printed in 1994, had impressive contributions from local and foreign sources. The second publication, The Student's Digest, The Annual English Magazine of High School Students, is written in English by and for students. It has stories, interviews, pictures, and poetry concerning issues such as education, social life, media, ecology and the environment, culture, and cross-cultural communication.
The Centre is always looking for more resources, both human and material. If you would like to exchange letters with them and/or know of books, tapes, or videos in English that could be spared and sent to them, please write to:
Centre of English Self-Access Material
80 Route de Madagh, Hay Safaa
Berkane 60300
Morocco
Email: AZMICRO@techno.net.ma, Subject: Attention, CESAM
Group Dispatch, October 10


Given how long yesterday's ride was, we were all happy to enjoy a later morning than was our custom. We have been rising at 6:30 or 7:30 a.m. on cycling days to take full advantage of the daylight hours. We can feel the days getting shorter and shorter as we move into the late-autumn and winter months.
So by the time 9 a.m. rolled around, we decided to go out and get some breakfast. When we stepped into the brilliant and warm Saidïa sunshine, and looked at the fabulously blue Mediterranean Sea, we were as surprised as we were yesterday at how quiet and serene everything was. Unlike so many of the cities we have been in, Saidïa has no obvious center, no busy cafés, and almost no traffic! More people seemed to be moving around by bicycle than by car. It was positively peaceful!
Corinne and andrEa went off in search of the strong coffee that they love, while Anthony, Ethan, and Padraic settled into a barely open café and ordered some mint tea and coffee with pastries. (The town was so quiet and life was so slow in the morning that the waiter in the café had to go somewhere else to get some mint for the tea.)
When Corinne and andrEa returned, we decided that, while they wanted to spend the entire day working on dispatches and writing new material for future articles, Anthony and Padraic would take a taxi into the nearest city, Berkane, to change money. (Saidïa is so small that it doesn't even have its own bank.) Meanwhile, Ethan would hide in the hotel to do some writing as well.
When Anthony and Padraic returned, they came with good and bad news. The bad news was that the bank had closed before they got there. Business hours in Morocco are very particular, especially in banks. Many follow a schedule like the following: 8:30 a.m. to 11:30 a.m. (except on Fridays when they close at 11:15 a.m.) and 2:30 p.m. to 4:30 p.m. (except on Fridays when they close at 4:15 p.m.). Padraic and Anthony had arrived at 11:18 — three minutes too late. But the good news was that they noticed signs posted around town for an Internet center open house which we could visit when we returned for an afternoon visit to the bank.
In the meantime, we did what we have not been able to do since arriving on the Mediterranean coast — we hit the beach.! Saidïa is Morocco's most easterly resort. It lies within sight of the mountainous Algerian border (only a few kilometers away) on an 18-km (11-mi) stretch of Moroccan sand. In fact, Saidïa is becoming increasingly popular and signs for a major new tourist complex (complete with hotels, a casino, restaurants, golf courses, and even a marina) were posted along the beach road we pedaled in on yesterday. We knew that it had to get crowded at some point during the year because of the more than five kilometers of parking spaces painted onto the road!
However, in the low season, it is a wonderfully quiet, sleepy little town. And Padraic, Anthony, and Ethan enjoyed a few tranquil hours swimming and then lying around under a warm sun on a soft stretch of what Padraic thought was "really nice sand." We all agreed.
By 2:30 p.m., we were well roasted and ready to head back into Berkane. The three guys had still not seen the two gals since the morning, so we left them a note explaining where we were going and hopped into a taxi. (Taxis in Morocco are very different from those in the U.S. Here, you usually pay a price per person to go places and the driver waits at a taxi stand or drives around town until he has as many people as he can fit into the taxi — usually six! — before leaving. This is the way he makes money. If you are in a hurry, you can always pay for the imaginary other people, but that can be expensive.)
Berkane itself was a surprise to us all. The city differed from others we have seen recently. The avenues seemed wider. There were more European-style cafés and bakeries. The whole place had a very different feel. We later learned that Berkane, Saidïa, and, in fact, everything east of the river we crossed yesterday — the Oued Moulouya — was part of French Morocco prior to Moroccan independence. After having spent the last two weeks in what was Spanish-held Morocco, we keenly felt the French influence, especially when we talked to the people. There were many more French-speakers than we had encountered previously.
Anyway, we rushed off to the bank, which was open (whew), and then wandered over to AZ Micro

, the computer and Internet center that was having its open house. It was very impressive. One large central display area had four or five large rooms attached to it. In each of these side rooms, a computer was being used to demonstrate different programs . . . and the use of the Internet. After a short meeting with one of the center's executives, we were led into the room with the computer that had an Internet connection. For the next two hours, Ethan led an Internet demonstration using the BikeAbout and Computer Curriculum Corporation Web sites as references.
Many students of all ages attended the demonstration and were very excited to see some practical uses of the Internet and the Web. On behalf of the crowd of 20 or so, Ethan posted a message and questions in the "Casual Chat" area of the "Chat 'n Debate" section of CCC's Edscape site. We hope that American students will find them and respond. The students with Internet access through AZ Micro are eager to communicate!
AZ Micro
25, rue Chouhada, Apt. 2
Berkane, Morocco
Tel/Fax +212 6 61.86.33
Email: AZMICRO@techno.net.ma
By chance, at the end of the Internet demonstration, a gentleman named Mr. Mohammed Allal (see the People of the Day) arrived and introduced himself. As coordinator of the Centre of English Self-Access Material in Berkane (see the Place of the Day), he was very interested in what BikeAbout is doing and asked if we could meet for a moment at the Centre. We agreed.
After a quick sandwich, we were met by Mr. Najib Bachiri (see the People of the Day), an important volunteer at the Centre and also President of the Association de l'Homme et l'Environnement (Man and Environment Association), who brought us to the Center. For the next hour, we discussed many issues and were interviewed by both Mr. Bachiri and Mr. Allal for one of the publications.
By 8:00 p.m., we were a little concerned that andrEa and Corinne might be worried about us (we had thought we would be back in Saidïa around 6 p.m.!), so Mr. Allal and Mr. Bachiri kindly drove us back. Along the way, we talked more about border security and how, despite the tragedies taking place in Algeria, no one in northeastern Morocco felt threatened.
We were also informed that the Oued Moulouya, the river dividing the former Spanish-influenced part of Morocco from that of the French, is one of the most important rivers — if not the only major one — flowing from western North Africa (Morocco, Algeria, and Tunisia) into the Mediterranean. As such, its delta is a crucial area to many migrating birds, including a few endangered species. Through his association, Mr. Bachiri has been working to encourage the Moroccan government to take a closer look at the pivotal role of this region so that it and the animals enjoying it will soon be protected.

Questions? Ask Ethan

!
---
---

Internet access and Web hosting while in Morocco were provided by AzureNet.
Copyright 1997-2004 BikeAbout. All rights reserved.