Note from the BikeAbout team: In April 1998, we were barred from being able to cross the border between Albania and Montenegrin Yugoslavia as a result of increasing tensions between an ethnic Albanian majority in the Kosovo (or Kosova in Albanian) region of Yugoslavia and the Yugoslav authorities.

Fortunately, we have an opportunity to experience a little bit of what we missed. Friends who were prepared to help us during our originally scheduled time along the Montenegrin coast have agreed to provide us with a vision of life in Yugoslavia.

In the following dispatch, written during the late summer, Biljana Ackovski Petrovic, now living in Munich but once a resident of the city of Belgrade, capitol of Serbia, who recently returned during the summer months, responds to a request for a look at a typical day in Yugoslavia.
BikeAbout Log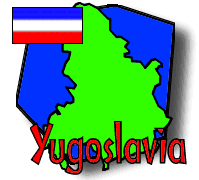 Fast Facts
Where We Are: Belgrade

Where We're Staying: an old building in the center of town

Featured Site: Barutana, Kalemegdan, Wonder Bar

Person of the Day: Zika (pronounced Zhika) the taxi driver

What We Ate:
Food of the Day: stuffed trout
Breakfast: croissants and yogurt
Lunch: stuffed trout in wine sauce, boiled potatoes and beet with olive oil and finely chopped garlic
Next Stop: Bari, Italy
---
---
Copyright 1997-2004 BikeAbout. All rights reserved.