topics: dolma (food), cultural exchange, schools; jump to dispatch
BikeAbout Log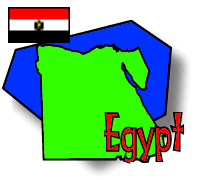 Rider Notes: November 24–25, 1997
Breakfast: There's not much to tell: two plain bread rolls, one jam, one inedible cheese, one glass of strong tea.
Lunch: We were unprepared for such a long stay at the schools, so we were grateful to be served cookies by the staff at the Experimental Language School, and salvaged a few bananas from andrEa's rucksack. We had to call it a late lunch!
Dinner: Given our never-ending search for new and interesting foods, we relied on a taxi driver's tip for our meal tonight. Of course, he drove us to the nearest Egyptian fast food place (typical American cuisine), but . . . as soon as he drove away, we set off on foot for a better meal close by of salads, kebabs, dolma (see our Food of the Day), and stuffed pigeon.
Dolma (or stuffed grape leaves) is usually a vegetarian dish and is not exclusively Egyptian. It consists of cooked vegetables, like peppers, tomatoes, and small squash, or rolled leaves from the grape vine stuffed with a savory, spicy rice. Served hot or cold, dolma is common in the Middle East and throughout the Mediterranean.

Word of the Day: "Happy New Year"


"Happy New Year" in Egyptian Arabic sounds like this:

. We asked the children at the Youssef El S. Experimental Language School what kinds of Arabic phrases they thought students in other parts of the world would might like to know and this was their choice. So don't forget to use it!
Randa was the only teenage female in the computing class we visited today. In her last year of secondary (or high) school, she is planning on studying to become an engineer. In fact, she's already taking two introductory college courses on the weekends!
She is also very interested in sharing the youth culture of Egypt with us in the hopes that people elsewhere in the world realize that there is more to her country than age-old tradition.
It is unfortunate that the mass media often reduces Egypt only to the land with the world's biggest dam (Aswan), some of the world's biggest pyramids (at Giza), and the world's longest river (the Nile). Likewise, the Hollywood film industry paints pictures of America that create cliches and stereotypes that are not true to daily American life. So Randa reminded us of the many faces of Cairo




that make it a diverse and interesting place.

Place of the Day: Heliopolis


On Tuesday, having finally succeeded in contacting a school in Cairo, we headed for Cairo's northeastern suburbs. We were looking for Heliopolis, located near Cairo's International Airport. Our first encounter with this suburb had already occurred on our spooky city-highway ride the night of our arrival in Egypt.
Today's visit started after a 45-minute taxi ride taking us outside of central Cairo, and introducing us to a friendly, upscale, suburban area.
Broader streets and bigger shops than in the city center made it only slightly less crowded, but the traffic (trams

, buses of all sizes, carriages

, taxi cabs, tons of cars, but rarely bicyclists

) was as crazy as everywhere in Cairo.
Heliopolis is also host to a number of schools and several military academies.

Tech Fact of the Day: NETWORKING — how it works

You have interests.
You want to share your interests with others by giving and receiving information, news, and contact names or to further your cause.
You form a group to represent these interests in public and to gain strength as an individual organization or entity.
If you are not seeking profit through your interests, you might consider becoming a non-profit group, just like BikeAbout. See, for example, the Internet Nonprofit Center.
You set up a topic-related database (the Internet is a good place to start).
You connect with other similar-interest groups with an address list or database.
You achieve goals through a group effort in a (mostly) more efficient (and often more fun) way, rather than working on it alone!
If you can picture it: You are a knot in a network! By using the Internet to network and make your group's knowledge more generally accessible, you are part of a constantly increasing virtual network.
BikeAbout (a nonprofit) owes its continued existence to active networking (see the BikeAbout Partners).

Group Dispatch, November 24–25


Still leaving our bikes to gather soot on the balcony of the hotel, on Monday we did nothing but rest, recuperate, and write, write, write! It was good to relax.
On Tuesday, having succeeded in contacting a school on Monday, we started our day (after our illustrious breakfast) with a big debate about who would do the presentation at the school. Well, somehow it got decided that Corinne, assisted by Ethan, would give the presentation, with andrEa shooting videotape. Anthony and Padraic would stay in Cairo to check train schedules for our trip toward Alexandria in a few days.
Thus began a fateful taxi ride

for Corinne, Ethan, and andrEa. Getting stuck in the continual rush hour was just the beginning. But it was when our driver had to pull over numerous times to ask for directions once we reached the outskirts of town that we knew he was lost. Despite the fact that we had the full address and name of the school that we were looking for, not having it in verbal or written Arabic still posed a problem.
Eventually, the taxi driver decided he had gotten us close enough and motioned for us to get out and find the rest of our way on foot. We obliged and, after wandering around and asking anyone and everyone for directions, someone pointed out the "Ex-English School." Although we were looking for the "Experimental Language School," we figured this had to be the right place. What were the chances that they were two separate places?
Well, it turned out that the Ex-English School was a different place, a secondary school separated into two parts, one for boys and the other for girls. So, we were ushered into the English Teachers' Lounge (of the girls' school) to ask for help, and were so enthusiastically received that the teachers insisted we come back later in the day . . . even though it was not the school we were looking for. The teachers we spoke with invited us to meet their students that or the following day, assuming they could get the permission of the principal. One of the teachers, Ms. Nahel

, even accompanied us to the neighboring building — the original school of our desire.
Youssef El S. Experimental Language School has a few classrooms and teachers that belong to the Globe School Network

, which is how we found out about the school in the first place. More information about Globe Schools in Egypt is available on the Globe School Web site, along with contact information for other Globe Schools throughout the world, all of which seek to involve students in cross-cultural exchange through the Internet.
Our time at the school was a great deal of fun because the kids in the computer class we visited ranged in age from six to 18 years! In their well-equipped computer room, we first introduced ourselves and the BikeAbout project to several staff members

, and then to a mix of teachers and students of all ages.

Soon enough, the audience got involved. First students and teachers alike helped us with sound recordings

of words and phrases like the Egyptian expression for "Happy New Year" (see our Word of the Day).

We also listened to strongly-felt opinions about what the students want us to share in our dispatches about Egypt; we were told (for neither the first nor last time) that Egyptians are amazed and sometimes insulted by the lack of knowledge people have about modern Egypt. Thanks to the Globe School opportunities, these students had already participated in some Internet classroom exchanges and could not understand why such ignorance abounds about their country.

"When modern teaching tools like films and informative magazines exist," they asked us, "why is it that no students in the USA know that our official language is Arabic and our most common religion is Islam?"
This concern was not unfounded, since, when asked about Egypt, most people think first and only of the ancient Egyptian pyramids.


As a result, during exchanges, the Egyptian students had encountered some pretty strange questions. "Do all the children in Egypt ride to school on camels?"

"Do you read and write in hieroglyphics?"

Everyone we met was eager that we portray Egypt in the right light. Of course they acknowledged the importance of Egypt's history, ruins, and monuments

, but they stressed that we talk about modern Egypt as well, since Cairo is in many ways just as advanced as any large European or American city.

After this excellent conversation, we invited the students to use our Compaq laptops to browse the BikeAbout Web site and read the dispatches from the previous BikeAbout countries. With fingers fast as quicksilver

, the students read all about whom we've met thus far, and had a great time looking at all the pictures

of the places we've been.
They asked many of the questions we're used to: our names, where we are from and what it's like there, what music we listen to, what TV we like, and what pets we have? Does andrEa play soccer? What is winter like in New York — how cold does it get? How many brothers and sisters does Corinne have? Can they see pictures? What have we liked or disliked most about their city so far?
They always wanted (as everyone does) to hear us speak a few words of Arabic and to teach us new ones. We can assure you that they never stop insisting until we have the pronunciation just right, too! We got dizzy from all their questions and curiosity, and were so busy answering them that we almost had no time for our own questions to them.
These students


were particularly interested in maintaining international connections with English-speaking students. BikeAbout has made the initial contact, but now anyone who wants to know more about life in North Africa and, in particular, the lives of other Egyptian students, should check the BikeAbout Partners page for complete information about how to reach this and other schools for possible e-mail or written exchange. Students seriously interested in exchange with other parts of the world can follow BikeAbout for additional schools in other countries as well.
After a whirlwind round of picture-taking


and goodbyes, it was time to go. Unfortunately it was too late for a visit at Ms. Nahel's Ex-English School as well. However, the Ex-English school will be online soon and once we have their e-mail address, you'll find it in with the others!
While it was pretty late when Corinne, andrEa, and Ethan returned to Cairo, Padraic and Anthony had not yet eaten, so we were off on yet another taxi adventure to find dinner in the nearby neighborhood of Mohandissen, just 2 km from our hotel. On the way back along a brightly-lit strip, the boys stopped for ice cream while the ladies both got haircuts in a barber shop under a highway-bridge.
All things are possible in a single day in North Africa. Try it !

Questions? Ask andrEa

!
---
---
Copyright 1997-2004 BikeAbout. All rights reserved.