ANDREA AND CORINNE ARE NOW ON CYPRUS
topics: car accident, pain, frustration; jump to dispatch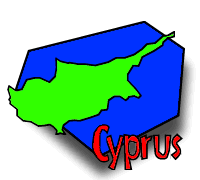 At 6:00 PM

Jan. 24,
1998

Sunrise (local): NA
Sunset (local): NA
Weather
45°F
Traveled Since
Jan. 22
22 mi / 35 km
Cumulative
(all groups)
1939 mi /
3122 km
Lat:
34° 40' N
Lon:
33° 03' E
Elev:
0 ft / 0 m
Fast Facts
Where We Are: Limassol (Lesmosos)

Where We're Staying: Luxor Guest House

Places We Visited: police station, hospital, Internet cafés

Person of the Day: K. Serge, the Luxor Guest House attendant

What We Ate:

Food of the Day: halloumi cheese
Breakfast: sheep's yogurt, coffee
Lunch: bread, cheese, fruit, coffee
Dinner: halloumi sandwiches
Olive Count: 1495
Next Stop: Nicosia!
---
ANTHONY, ETHAN, AND PADRAIC
ARE NOW IN JORDAN
topics: border crossing, Dead Sea, Jordan River Valley, Jericho; jump to dispatch
At 6:00 PM
January 24, 1998

Sunrise (local): NA
Sunset (local): NA
Weather
55°F
Traveled Since Jan. 22
121 mi / 195 km
Lat: 32° 33' N
Lon: 35° 51' E
Elev: 2854 ft / 870 m
Fast Facts
Where We Are: Irbid, Jordan

Where We're Staying: Hotel al Wahda al Arabiya

Places We Visited: Allenby Bridge border crossing, Jordan River Valley, Jordan River Valley (Sheik Hussein Bridge) border crossing

Featured Site: Allenby/King Hussein Bridge

Person of the Day: Donald and Alma Barker

What We Ate:

Food of the Day: none
Breakfast: eggs, cereal, fruit, muffins, toast
Lunch: bread, oranges
Dinner: falafel, shawarma, and fruit cocktail

Word of the Day: "Just a minute" in Hebrew is an important phrase, especially when accompanied by a gesture used throughout the Middle East. Beginning with your palm up, bring all five fingers together and shake your hand a little once or twice. You don't even have to use words when you know this gesture.

Tech Fact of the Day: At 244 meters below sea level, the city of Jericho is one of the lowest cities in the world. A person sitting in a café in Jericho would be nearly 800 feet below the surface of the Atlantic Ocean!
| | |
| --- | --- |
| | |
Next Stop: Amman (Jordan) or
Damascus (Syria) or
Beirut (Lebanon)!
---