topics: artisans, education, medina, Kasbah, Moors, history; jump to dispatch
BikeAbout Log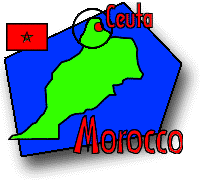 At 6:00 PM
September 28–29, 1997

Sunrise (local): 6:15 a.m.
Sunset (local): 6:08 p.m.
Weather
70°F
Traveled Since Sept. 27
33 mi / 53 km
Cumulative
90 mi / 145 km
Lat: 35° 34' 16" N
Lon: 05° 22' 10" W
Elev: 568 ft / 173 m
[Webmaster's note: This dispatch covers the days from September 28 to September 29. The almanac data refers to September 29.]
Fast Facts
Where We Are: Tetouan

Where We're Staying: Tetouan

Places We Visited: Artisan School

Featured Site: Artisan School

Person of the Day: Ahmed Habri

What We Ate:

Food of the Day: Sardines are a favorite fish specialty of the coastal regions of Morocco. While the sardines from the Atlantic are, in general, larger, most people agree that the Mediterranean sardines are tastier. Sardines are often grilled over a charcoal fire after having been lightly sprinkled with salt. Very simple, but very good.
Breakfast: Moroccan flat bread with yogurt cheese. Our guide called this "Moroccan breakfast toast."
Lunch: mixed salad and Moroccan flat bread
Dinner: grilled sardines with a tomato and onion salad.
Olive Count: 80

Word of the Day: Ettassamouh means "tolerance" in Arabic.

Tech Fact of the Day: Most of the electrical outlets in Europe and North Africa rely on 220 volt electricity, twice the 110 volts most American appliances use. Luckily our equipment, like our cameras and computers, has built-in devices in the power supply to convert the 220 volts into 110. All we had to do was pick up adapters so our plugs would fit into the differently shaped outlets. Click on the photo icons for a look at a North African/European adaptor plug , versus a British adaptor plug and even an Australian adaptor plug.
| | |
| --- | --- |
| | |
Next Stop: Chefchaouen!
---
---

Internet access and Web hosting while in Morocco were provided by AzureNet.
Copyright 1997-2004 BikeAbout. All rights reserved.