The BikeAbout-the Mediterranean journey began in September of 1997, setting out from Ceuta and moving eastward along the Moroccan coast in a counter-clockwise full circumnavigation of the Mediterranean by bicycle.
The team finished nine months, and more than 10,000 miles later in Gibraltar.
The journey took BikeAbout through Morocco, Tunisia, Malta, Egypt, Palestine, Israel, Lebanon, Syria, Jordan, Cyprus, Turkey, Greece, Albania, Bosnia, Croatia, Slovenia, Italy, Monaco, France, Spain and Gibraltar. Local conditiions prevented visits to Algeria, Libya, and Yugoslavia. [For a complete, uptodate schedule, with links to reports from the team, please visit the BikeAbout Itinerary.]
BikeAbout pedaled close to 350-400 miles every week (averaged across all countries), depending on terrain, weather, scheduled visits and the unpredictable.
The following dates are very approximate and were changed as visits were arranged and road/political conditions varied.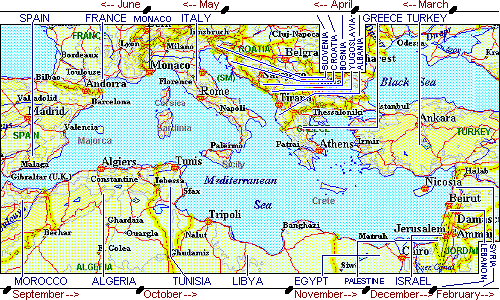 Map courtesy of DeLorme Mapping. Used by permission.
---
About BikeAbout | Mediterranean Map | BikeAbout Partners | Resource Library
Copyright 1997-2004 BikeAbout. All rights reserved. Please use our online form to send us your comments or offer support.