From Kennebec Journal, October 2, 1998. Text and photo reproduced here with their permission.
Promoting pedal power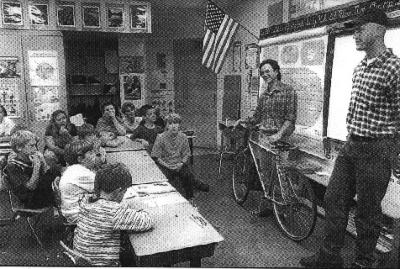 Photo by Joe Phelan
After showing slides of their bike trip around the Mediterranean, Ethan Gelber, center, and Anthony Ziehmke answer questions from Lincoln School students. Gelber, of Morrill, is the executive director of BikeAbout, and led a group on a journey around the Mediterranean. The group took turns posting reports on www.bikeabout.org, its website. It is full of reports, pictures and information about this unique, nine-month, 10,000-mile adventure.
---
About BikeAbout | Mediterranean Map | BikeAbout Partners | Resource Library